Ibiza in the winter: a day amongst almond trees
The star colour in Ibiza is white in January and it's not because of snow. Every winter, thousands of almond trees growing in the inland valleys welcome the new year with new delicate white flowers and their sweet scent. If you're on the island for the next few weeks and your body needs a day out in the countryside, read on and find out where to see the almond trees in bloom and other stops to add to your outing in Ibiza.
Where can you see the almond trees in bloom in Ibiza?

If you've already read or heard about this, you will know that the most famous place in Ibiza to see the almond trees in bloom is Pla de Santa Agnès Corona, a beautiful inland valley that is only 10 kilometres away from Hostal La Torre boutique hotel and 18 kilometres from Casa Maca country boutique hotel. We suggest you head over to Pla de Corona following the road from San Antonio towards Cala Salada and Santa Agnès. This way, as you go down the hill, you will have a splendid view of the valley.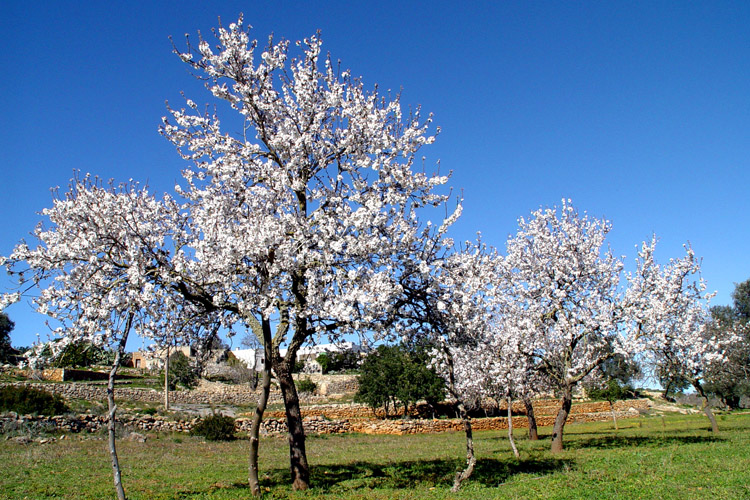 Take a walk among the almond trees in bloom. © Consell d'Eivissa
Pla de Corona may be the largest area with almond trees on the island, but it's not the only one, as you will find these trees in bloom in virtually all the valleys as they have been one of the island's traditional crops. If you'd like to plan your own route of almond trees in bloom in Ibiza, go along the road that links Sant Agustí to Cala Bassa and the smaller roads that go to Cala d´Hort, Sa Caleta and Es Cubells. The countryside of Santa Eulària des Riu and Sant Carles is also peppered with white flowers these weeks, so you will enjoy the display wherever you go once you're off the main roads.
When do almond trees bloom in Ibiza?
If you don't live on the island, you'll surely be surprised to learn that we start the year talking about an event that one doesn't expect until spring. In Ibiza, however, the almond trees flower between January and February, as happens in other areas on the Mediterranean coast. Depending on how wet or cold the previous months have been, the flowering will start a few weeks earlier or later. If you're in Ibiza between mid-January and mid-February, you will be able to enjoy this spectacular display of nature.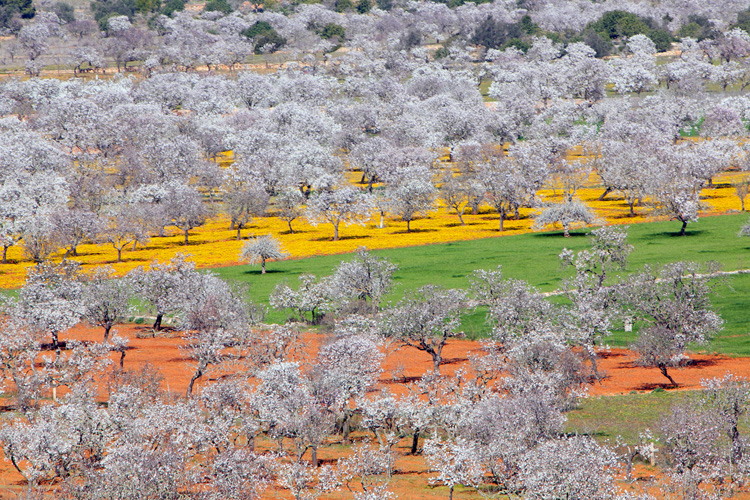 Pla de Corona is one of the most beautiful places in Ibiza. © Jose A. Porras / visit.santantoni.net
What to do in Santa Agnès de Corona?

During the weeks that the almond trees are in bloom, we suggest you walk around Pla de Corona (follow the circular road that surrounds the plain) and then eat the famous potato and vegetable Spanish omelette served at Can Cosmi or eat paella and other rice dishes at La Palmera or Las Puertas del Cielo. If the walk around the valley was too short, you can visit the charming valley of Es Broll by taking the road that leads off the Santa Agnés to Forada road. Once you've parked, this pleasant walk will reveal an ancient Arab water canalization and the spring that gives its name to this place.
Blooms under a full moon

You can enjoy a completely different view of the valley of Santa Agnés de Corona if you walk through the valley on a full-moon night (or nearly full moon, as it will be equally bright). This experience, perfect for romantics, can be done alone or joining a free guided night walk that is organised by the town council of Sant Antoni de Portmany and is planned for February 7th this year.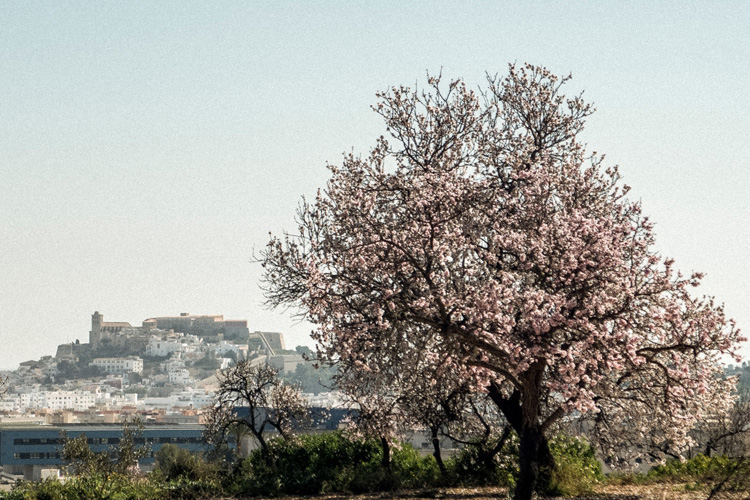 Stay at Casa Maca and enjoy a relax winter break. © Grupo Mambo
Winter getaway to Ibiza to see the almond trees in bloom

If you can't wait for the spring, get ahead of it and fly over to Ibiza in the next few weeks. You're still in time to admire the flowering of the almond trees! Check our special offers and promotions for our boutique hotels in Ibiza to stay in Hostal La Torre or Casa Maca during the off-peak season and find out why Ibiza is one of the great destinations on the Mediterranean to get away from the cold and rain. Also, our events calendar is far from empty these months. There are many exciting proposals, such as Casa Maca's Sunday Roast barbeques and the DJ sessions held every day as the sun sets over Hostal La Torre. Don't think twice. Board one of the flights to Ibiza in the winter and catch Ibiza's light and energy!
Main picture: Santa Agnès de Corona. © visit.santantoni.net
**