5 beaches near Hostal La Torre
At Hostal La Torre Ibiza you will not only find a magnificent sea view, but you will also find cosy rooms and fabulous sunsets. It also has a perfect location on the western coast of the island, only a few minutes away from some of the most beautiful beaches on Ibiza. And all this is less than four kilometres away from the centre of San Antonio. Discover which beaches you'll want to stretch your towel on and rescue your swimming costume or swimming trunks from the bottom of the drawer. Ibiza hopes to see you very soon!
Cala Gració and Cala Gracioneta
You won't have to go far to get to our first recommendation. Barely 700 metres between Hostal La Torre Ibiza and these two stunning, unspoilt coves at the end of a paved road or –much better– a path along the coast. Cala Gracioneta is small but charming. Its crystal-clear waters make it a real natural swimming pool and you can enjoy delicious Mediterranean food at the quaint beach bar that shares its name with the cove. The neighbouring cove, Cala Gració, is wider and has a marked family feel to it.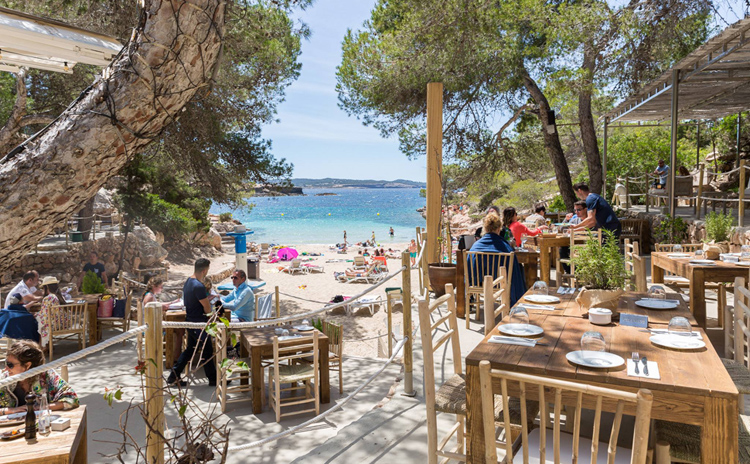 Cala Gracioneta © Cala Gracioneta
Cala Salada and Cala Saladeta
Five kilometres away from Hostal La Torre Ibiza you will find these two adjacent coves that are among the most beautiful beaches in Ibiza. Reminding us of the traditional fishing trade with its countless fisherman huts along the coast, Cala Salada and Cala Saladeta are known for their transparent waters and fine sand. To get to Cala Saladeta, the smallest cove, you simply have to follow the path from Cala Salada and up the cliff.
Punta Galera
You can drive to this beach, but we suggest you walk there along the coast: the walk from our boutique hotel is short and you can enjoy breath-taking views over the sea. Punta Galera is not your usual cove as it's a unique coastal area that used to be a stone quarry. Instead of sand you will find natural stone terraces where you can sunbathe and dive into its crystal-clear waters from certain rocks. It is also an ideal place to watch the sunset. You will love this place if you're looking for a quiet spot and you like to practise nudism
.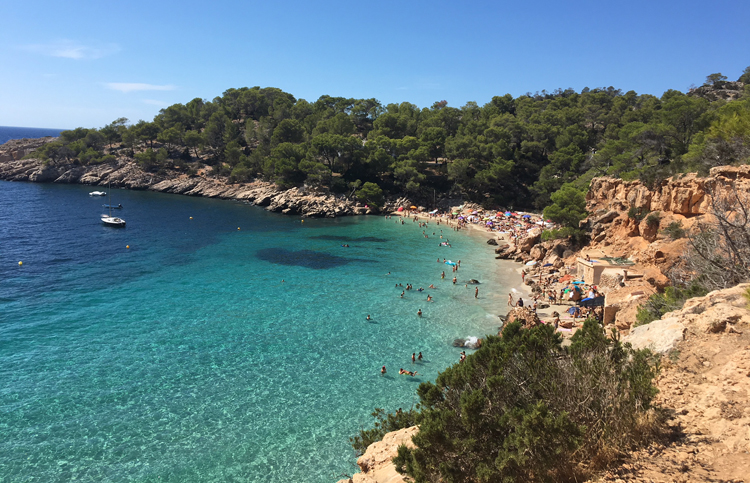 Cala Saladeta's view from the path up the cliff © NC/Hostal La Torre
Caló des Moro
This is one of the urban beaches in San Antonio. It is quiet and you can lie down on the sand or on the wooden terraces built around it. Its clean and transparent waters are only a 10-minute drive from Hostal La Torre Ibiza. Also, after a swim, you can have a drink or eat something at the nearby Sunset Strip where you will find many restaurants and cafes, including Mint Lounge, Café Mambo or Fresh.
Cala Bassa
Our last recommendation is on the other side of San Antonio bay, 15 kilometres away from Hostal La Torre Ibiza. It is the farthest of all the beaches we have suggested, but we are sure that you will love it because of its beautiful setting, its crystal-clear waters and the views over the coast of San Antonio. It is one of Ibiza's most famous and stunning beaches, so be ready to find quite a fair amount of people.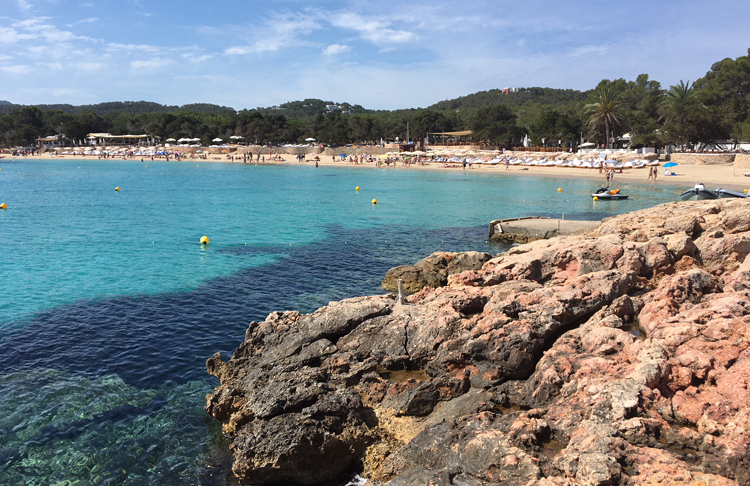 Vista de Cala Bassa desde uno de sus extremos © NC/Hostal La Torre Ibiza
Main picture: Cala Bassa. © NC/Hostal La Torre
Fancy a meal overlooking the sea?
Book a table on the Hostal La Torre terrace, try our new seasonal menu, and relax with a glass of our hierbas ibicencas after lunch.