A cup of coffee with... DJ Alfredo
Sunday sunsets from Hostal La Torre bear the personal mark of one of the big names in Ibiza's musical scene: DJ Alfredo. By a twist of fate, this Argentinian man with a restless soul came to the island in the mid 70s. His innate creativity transferred from fashion to one disco to another and from one find to another.
Back in the 80s, his sessions at Amnesia turned the club into the place to be and DJ Alfredo became the father of what was to become the Balearic Sound. This summer all his musical expertise will be playing again on Hostal La Torre's terrace every Sunday and today we've joined him by the turntables to chat about music and Ibiza.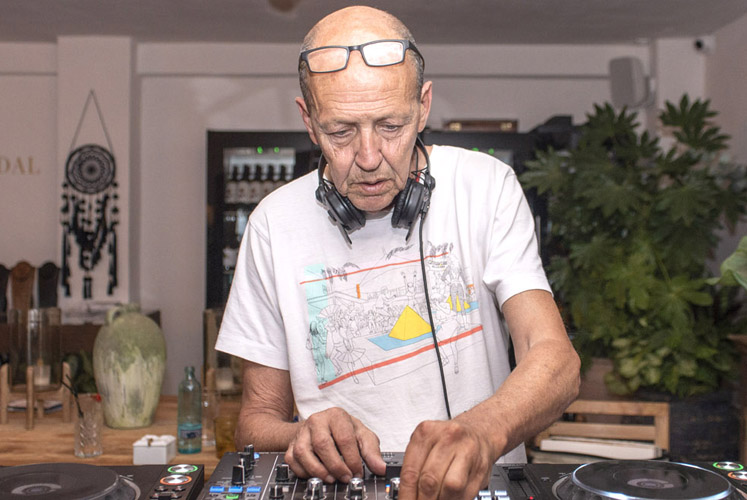 © Luanda Lopes / Hostal La Torre
DJ Alfredo and music
For the past four decades as a DJ, music has given you... All sorts of things. So many things I would never have imagined. Friends, trips, romance, money, joys, sorrows. But not all that glitters is gold. I've also lost many friends on the way, friends who also worked in music.
What's the musical find or revelation that you most love? When I went to see Prince in Milan in 1987.
Do you keep all the sessions you've played so far? Have they survived all the house moves and creative or existential crisis? No way. Records, CDs, tapes... many things I keep in a storage unit, but I don't even know what they are.
The name Balearic Sound came from the UK to refer to your sound. What would you have called it? I wouldn't have given it a name. It was simply my sound. I would never have thought to give it a name.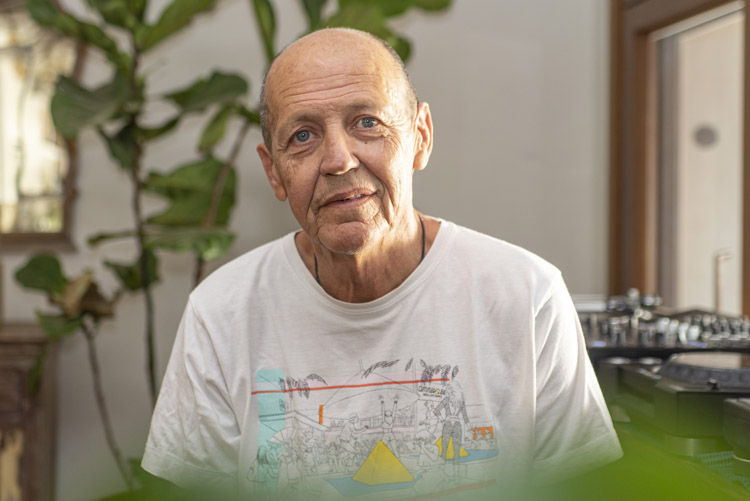 Dj Alfredo has been a reference for music in Ibiza since the 80s. © Luanda Lopes / Hosta La Torre
Do you believe that what goes on in the DJ booth is taking over the dance floor? No-one dances, they just stare... It's more than that, phones have crushed absolutely everything. People don't get into the music anymore.
Which three songs would you say define Amnesia in the 80s?
"Promised land", by Joe Smooth.
"Smooth operador", by Sade.
"When doves cry", by Prince.
What about Ibiza in the 90s?
"Right on, right on", by Silicone Soul.
- "Around the world", by Daft Punk.
- "Show me love", by Robin S.
And today's Ibiza?
"Dancin' (Detroit Disko Dub)", by Tink Thomas.
"Bobabop (original mix)", by DJ Lora Ft. Ce Ce Rodgers.
"Hey Moloko", by Mike Salta.
After such a long career, what do you see when you look back? Many memories; many joys. Cities I never thought I'd visit; wonderful people I never thought I'd meet. But especially, flashbacks of me playing music while people are having fun. Many joys and highs.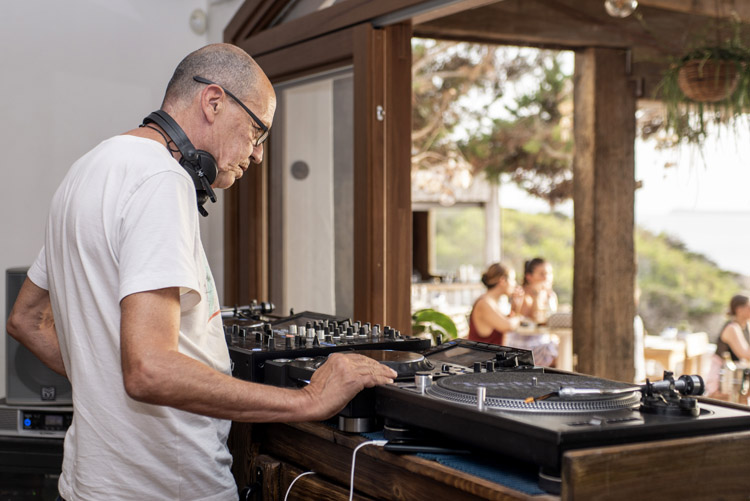 Do you want to enjoy the best of Dj Alfredo? Come to Hostal La Torre on Sunday.
DJ Alfredo and Hostal La Torre
Sunday sunsets at Hostal La Torre at the beat of your mixes. Do you find sunsets more inspiring than nights? I'm inspired by both, but the feelings are completely different. At night, you're really connected to people, you have to be very focused on what you're doing because you need to keep the party going. However, at sunset, you're connecting with the people but also with the views, you know, the sea, the place...
- What do you feel when you're at the turntables and people are simply enjoying the moment instead of being hypnotised by the booth? Peace (he laughs). I'm filled with a sense of happy peace.
Is there a specific tune you can't get out of your head when you're at Hostal La Torre? More than a tune, it's the sun and sea that cling to me.
What do you think Hostal La Torre sounds like? Sunset.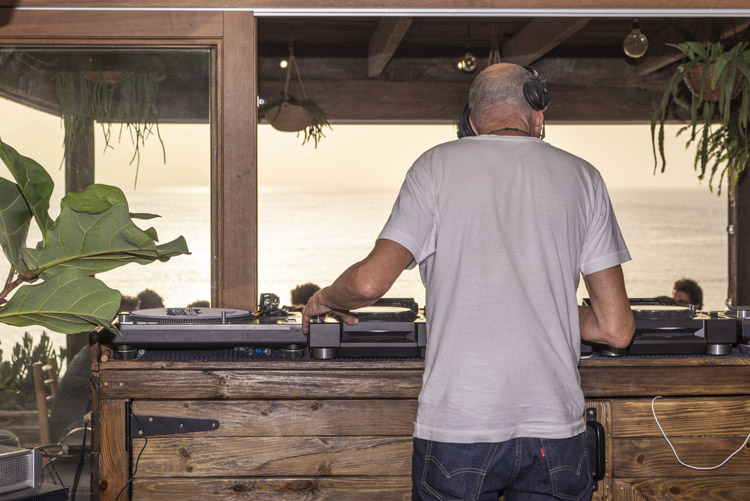 The sea, the sunset and the best music of DJ Alfredo. © Luanda Lopes / Hostal La Torre
DJ Alfredo and Ibiza
Can you remember your first impression of Ibiza when you came over in winter 1976? I felt calm and relaxed.
What's your favourite spot in Ibiza? Only one? I couldn't choose only one. Well... there's a hidden cove in Salinas where I love to be. It's been a while since I last went but it's the first place to come to mind.
When you fancy lying down on a beach and swimming, you go to... I go to a cove on the way to Cala Jondal, but it doesn't have a name. It's a small jetty with pebbles. It has crystal-clear waters, it's usually empty and there's no music!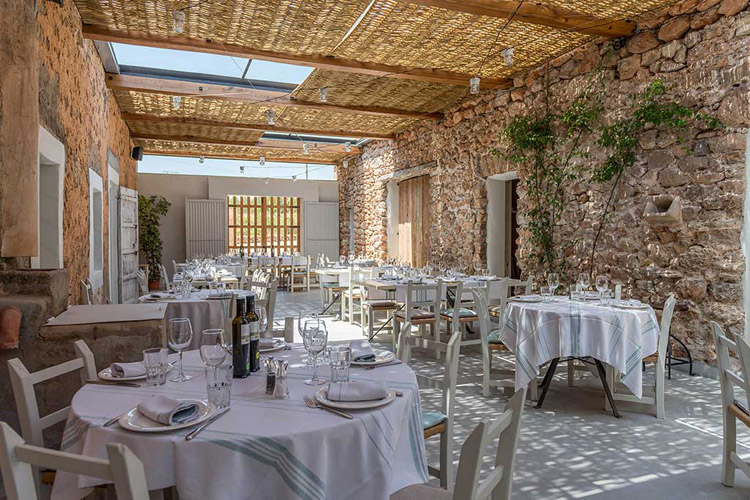 Ses Escoles
Where do you go for a lengthy lunch with friends? Ses Escoles.
And to start a night out without a set course? I'd start with Bar 1805 next to the city walls of Ibiza.
Ibiza in the daytime or at night? Both! I lead a double life. I have a twelve-year-old girl who, like all kids, needs me in her life. The summer camp, school... I love it! I feel needed, as if I were doing something truly significant. I'm not saying that my job isn't important, but raising kids takes more than one thinks.
For you, Ibiza is still... The place where I have to live and the place I want to live in.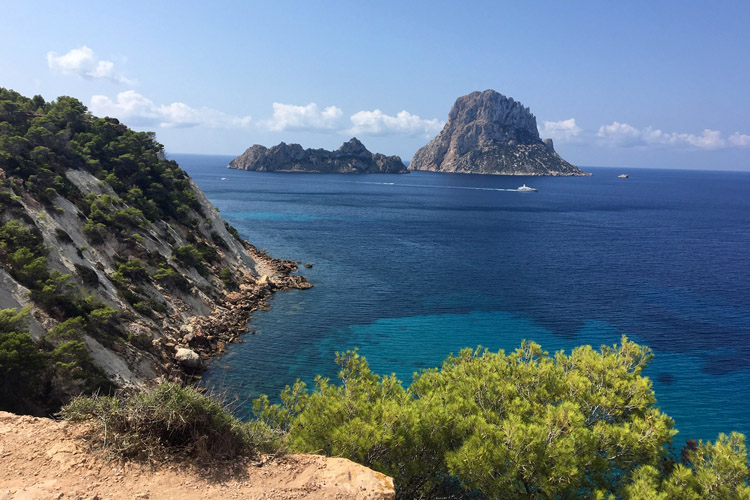 DJ Alfredo is one of the several artists who chose Ibiza for living. © NC/Hostal La Torre
But you'd gladly get rid of... The motorways, traffic, big buildings and, I'm sorry but I would have to get rid of some people, I'd buy them a ticket to go elsewhere. It's too crowded. Our quality of life goes down dramatically in the summer, when it should be the opposite.
If all paths lead to Rome, in your case, all paths lead you to... Ibiza.
Let's do an acrostic. Say whatever comes to mind about Ibiza choosing a word in each case that starts with or has...
Independence
Beautiful
Influence
Z for hugs (abrazos in Spanish)
A for love (amor in Spanish)
Main photo: © Luanda Lopes / Hostal La Torre
**