Our Evening Grill: Delicious Grilled Dinner In Ibiza
Summers are synonymous with outdoor dinners, starry nights and the scent of barbeque in the air. As well as lengthy chats with friends or family. Delicious grilled dinners in Ibiza that you can enjoy at Casa Maca thanks to its evening grill. A tempting plan accompanied by an exceptional view and the best music. Don't wait any longer... Book a table straight away for our evening grill and don't hold back: lick your fingers!
noches de grill at de Casa Maca
The boutique hotel Casa Maca is not only a peaceful haven during the day, it is also one of the most charming places to spend the sunset and evening in Ibiza. Its traditional architecture, Mediterranean garden and organic kitchen garden has made this new meeting point in Ibiza a very special place to enjoy good food and the countryside.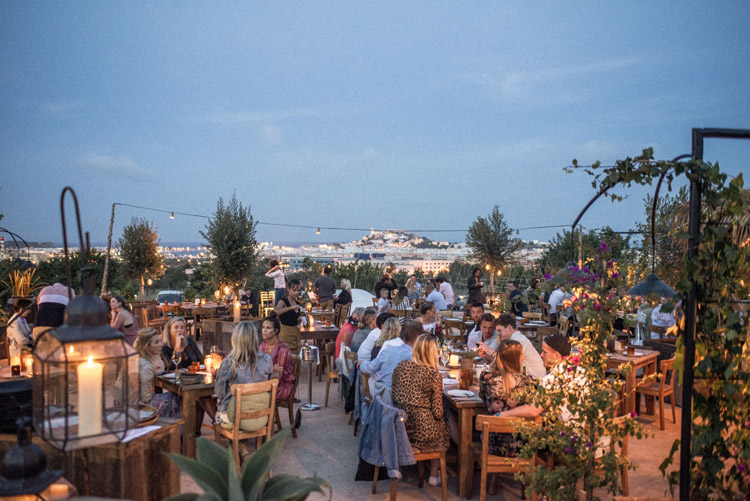 Are you looking a perfect night?. Book your table at Casa Maca © Luanda Lopes / Casa Maca
This is why Casa Maca opened its Evening grill, a fun plan enveloped by the scent of grilled food with a huge barbecue as the main feature, where we grill meat, vegetables and seafood. And we mustn't forget another two very special ingredients: the beautiful view of the city of Ibiza and a side dish of the excellent music cooked by DJ Buda, Andy Wilson, Andy Baxter, The Brothers Grimm, François Caballero, Bahramji, Howard Hill…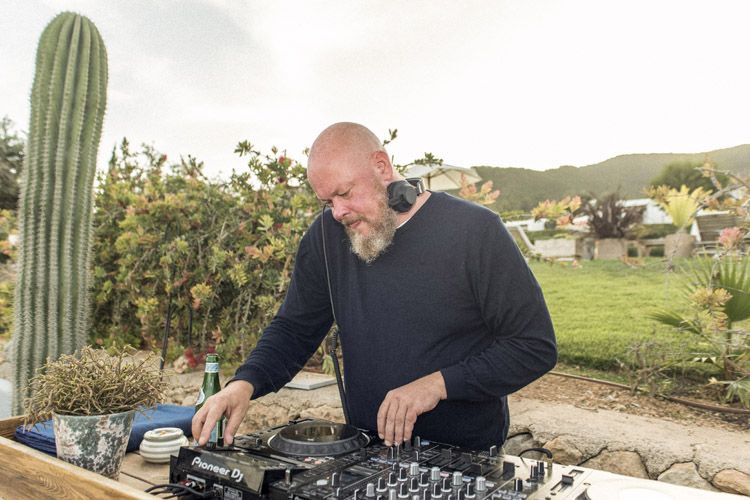 DJ Buda at Noches de grill. © Luanda Lopes / Casa Maca
Suggestions for an unforgettable grilled dinner in Ibiza.
If you like the scent of a good barbecue and juicy meat, you're in for a treat at Casa Maca. Our menu includes delicious carnivorous temptations, like Black Angus steak, Iberian pork steak, organic chicken thighs, flank steak and rump cap of Argentinian Black Angus beef and 40-day dry-aged Nordic T-Bone steak. But if you're more of a seafood person, our grill also makes room for prawns, octopus and the day's fish.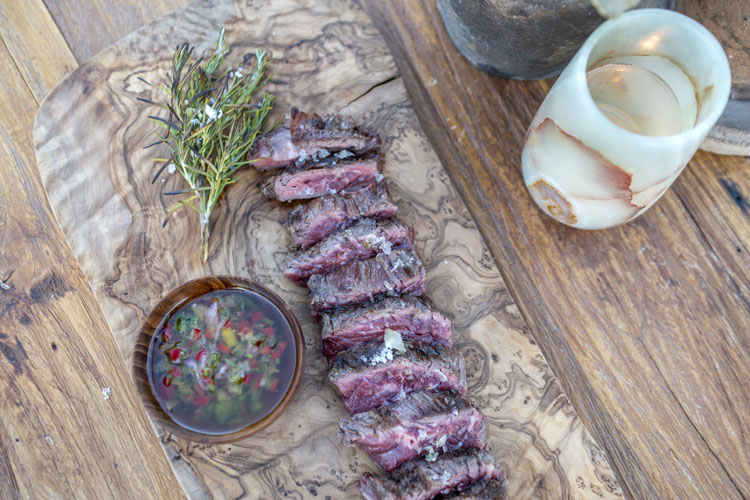 Ñam, ñam... © Luanda Lopes / Casa Maca
All this with a broad variety of side dishes to load your plate even more: corn on the cob, sweet potatoes, avocado, red peppers, homemade chips or rustic potato mash with truffle. And for starters, yummy proposals like in-season tomato salad, grilled aubergine or a scrumptious baba ganoush accompanied by artisan bread, among other suggestions. If you were looking for a mouth-watering grilled dinner in Ibiza, don't think twice, Casa Maca is the place to go.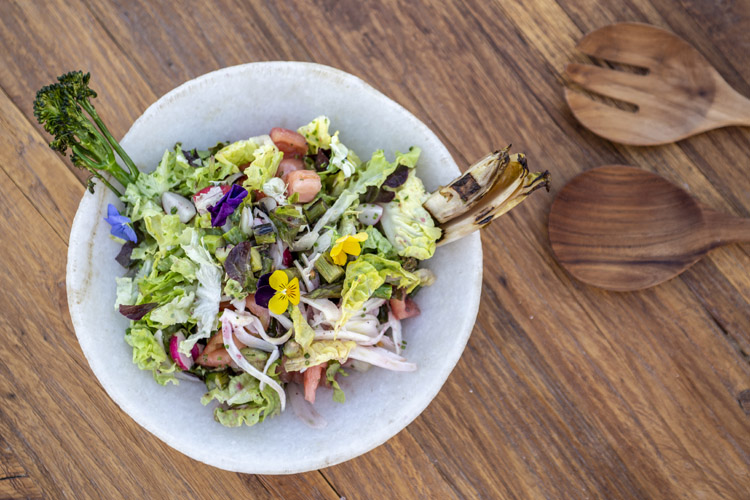 Create your perfect grilled dinner with a delicious assortment of starters and side dishes. © Luanda Lopes / Casa Maca
full moon at Casa Maca
Our evening grill is even more magical on a full-moon night when the moon becomes our guest of honour. If you get the chance to have dinner in Ibiza on August 15th, when there will be a Full Moon, book your table with time and join our most lunar grill.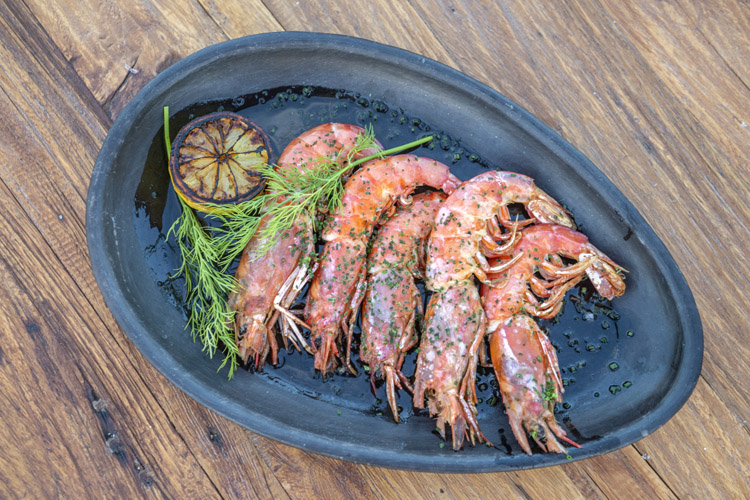 and the nights of SANT CIRIAC and the PERSEIDS…
Two special days to gape at the beauty of the colourful stars and the shooting stars:
On August 8th, enjoy the famous firework display lit in honour of Sant Ciriac from the garden of Casa Maca with a special menu (€100 per person) that includes a welcome drink, a starter and a main course to choose, side dishes and an assortment of desserts.
On August 12th, come to Ibiza's countryside to hunt shooting wishes on the starriest night of the year: the night of the Perseids meteor shower. There will be a dinner picked from our kitchen garden and onto the grill, a meteor shower and the best music..
More information and bookings

If you need more information on Casa Maca's Evening grill or you'd like to book a table, ask our front desk at Hostal La Torre or call Casa Maca directly (+34 971 806 864). Bon profit!
**