A cup of coffee with... José Padilla
Many people have drifted away from the winter languor by listening to Café del Mar music compilations under the name of José Padilla and have gained strength from the unforgettable chill-out sessions that accompanied Ibiza's most famous sunset. Born in Barcelona in 1955, it was not until 36 years later that he made chill-out music sound for the first time ever in Ibiza. This new genre was inspired by ambient house music. Ever since, José Padilla has been synonymous with the best mixes of this relaxing and sensual style. Today we will be chatting to this passionate and restless artist about his career, Ibiza and his Tuesday sessions at Hostal La Torre.
José Padilla and the music
What led you to chill-out music and what did you most like about this new musical genre? When I started to work at the Café del Mar, chill-out music wasn't even called that. Back then, we had ambient house, which was a genre I liked because it's so calm. When I worked at the turntables in discos, all I wanted to listen to at home was jazz, classical music and ambient house...
Summer 1990 was the first time you took over the turntables of Café del Mar. How did you end up there? Indeed, it was in 1990 when I started as the resident DJ, but they'd already played my music there for a few years. I lived in a house in Ses Variedades that doesn't even exist now and I loved going to the Café del Mar, so I'd pass by and make them mix tapes. They had 50 scratched records and they would play the same tunes on a loop! So I ended up swapping disco nights for the sunset.
Did you like the change? It was excellent. I was doing what I did at home when my friends came over for a few beers and to smoke joints and listen to relaxed music while we watched the fishing boats come in at the end of the day. The first summer there, I would sell T-shirts, baseball caps, handbags and other souvenirs on a stand and in the afternoons I'd serve coffees between records. In those times, Café de Mar was a really swanky beach bar, with a restaurant and showers.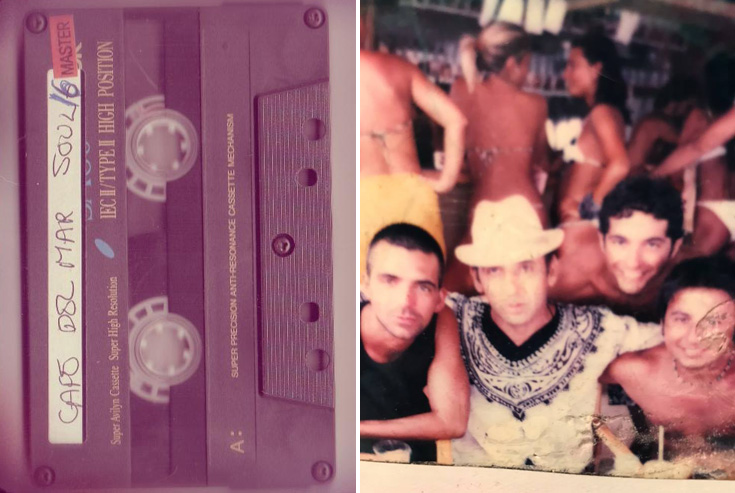 facebook.com/JOSEPADILLAIBZ
Can you remember how people responded to this new genre? They responded really well because it was unique. I didn't know any other places that did this. You see, it wasn't only chill-out music. I would take risks, play many different styles each evening. People were crazy about it! I was lucky because there was this open-minded Englishman who would come by. He loved to discover new things and told other people about his finds.
Why and when did you decide to create a Café del Mar record? Because my mix tapes were such a success. I started off by giving them away to my friends, but people liked them so much that they'd ask for more so then I started to charge for them: There were days I would sell 100 tapes at 1500 pesetas! Sometime later, I decided I should do it properly so I went alone to the UK without a penny or contacts, and knocked on every door of the big record labels. They all turned me down. Two years later, by sheer chance, I met in Punta Galera a girl from Berlin who worked for Logic Records. Her name was Shila and she suggested I contact a small record label in London called React Music. And they produced my record. The first one sold 5,000 copies, the second 30,000 and the third one nearly 100,000. Then I moved on to Universal and the rest is history.
What's your best memory from your sessions at Café del Mar? Everything, but there was this session when a woman came to me in tears. There have been times when I've been in tears too... It was the best time of my life. And the most painful one when the relationship ended. It made me lose my faith in people...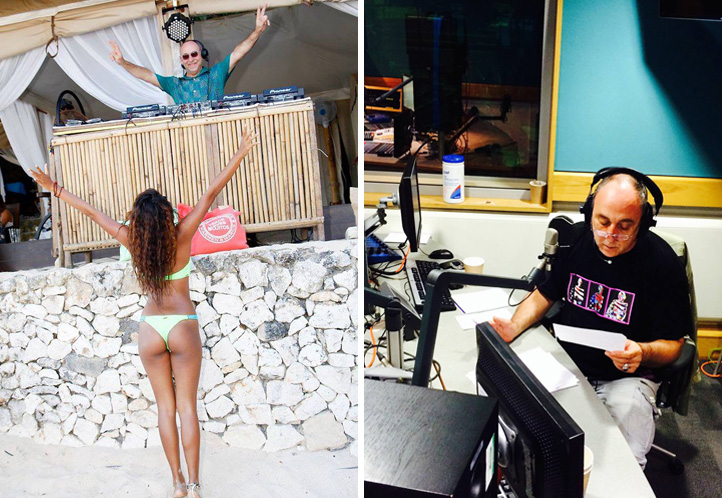 facebook.com/JOSEPADILLAIBZ
But that didn't stop you... No. I went my own way after Café del Mar and launched my own albums, "Souvenir", "Navigator", "So many colors" and "Binary Sound", as well as countless remixes and compilations, including "Bella Música" and "Here comes the sunset". I also put together the soundtrack for the film El sueño de Ibiza and I recently designed the music for a luxury holiday resort in Maldives and for a museum in Japan.
Do you have any other plans for now? I'm going to open a new record label called Balearic Resistance where I'll produce my new work. And I'm cooking up more projects.
Which musical theme would you say defines Café del Mar in the 90s? Personally, Moments in Love by Art of Noise.
And your life? Right now, Rosalía, con el "Me quedo contigo"which she sang at the Goya Awards ceremony.
After such a long career, what do you see when you look back? A long story that I'll be telling soon.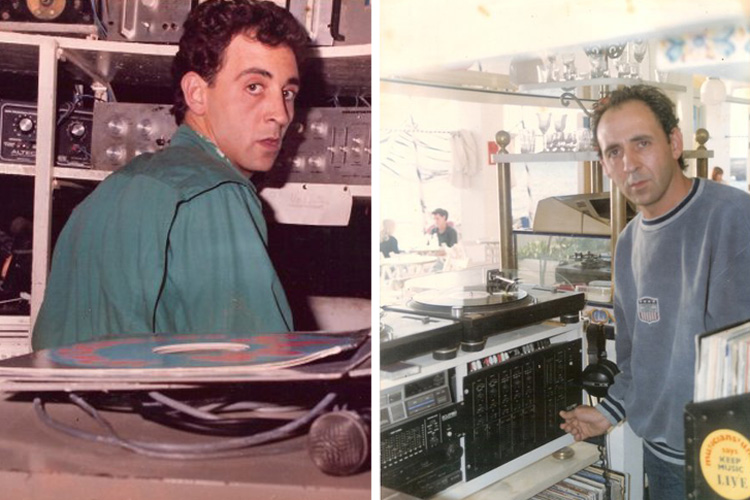 facebook.com/JOSEPADILLAIBZ
José Padilla and Hostal La Torre
This summer you've joined the team of DJs at Hostal La Torre to bring music to Tuesday sunsets. Were you craving the sunsets? Not craving, because I've done so many... But the truth is that I'd wanted to work there because it's special to me. I've got so many good memories there, like the launch of my record Navigator.
What do you think makes sunsets from Hostal La Torre so special? It's such a unique and spectacular place. The best place in Ibiza to see the sunset! A solitary building on an unspoilt spot with a clean sunset without buildings. It's a wild sunset.
When you're in Hostal La Torre, you're always thinking about... How to make people enjoy my work. The other day, for instance, I played the song "Me quedo contigo" by Rosalía as the sun was setting and the people there clapped for about three minutes. It was absolutely amazing!
And when you're not working, what do you like to drink or eat at Hostal La Torre? I love everything they have. Their ceviche is delicious, for example.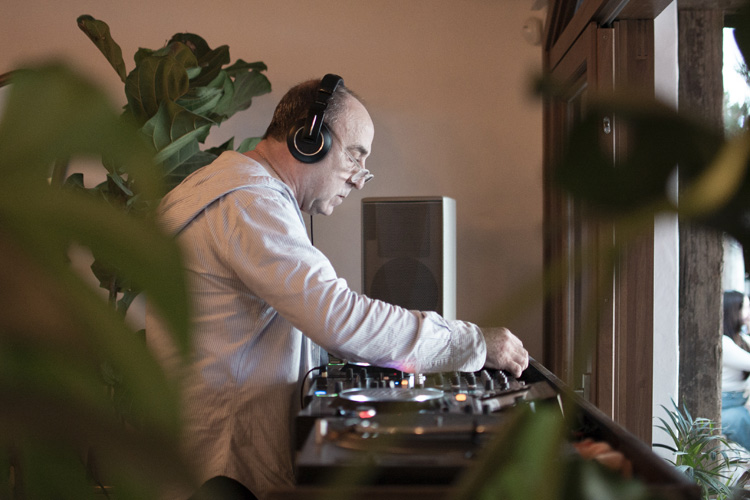 © Luanda Lopes / Hostal La Torre
José Padilla and Ibiza
What was your first impression when you came to Ibiza in 1975? Freedom, absolute freedom.
What brought you to the island? It's a very long story. I was trying to get away from myself and my family and I got onto a boat and ended up here
What's your favourite spot in Ibiza? That's top secret! But I will say that Cap Negret, where Hostal La Torre is and Es Broll are beautiful places for walks, especially in the winter.
And the place that still inspires you? Dalt Vila when I'm strolling through its streets in the springtime.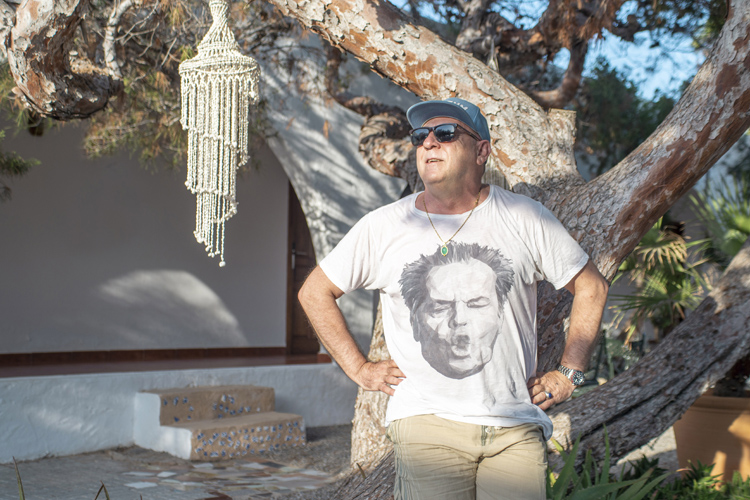 © Luanda Lopes / Hostal La Torre
And the restaurant you go back to every single summer.. Can Pujol, no question about it. Excellent rice and fish.
For you, Ibiza is still... A love-hate relationship. But I adore this island!
But you miss... People's friendliness as it used to be way back. We'd say hello to each other on the street. We all knew each other.
Let's do an acrostic. Say whatever comes to mind about Ibiza choosing a word in each case that starts with or has...
Invincible, immense, intriguing...
Blessed
IIlluminated
Zen
Ancestral, an adventure.
Interview pictures: © Luanda Lopes / Hostal La Torre
**