Make your end-of-season business lunch a success!
Summer successes must be celebrated. As well as your team's effort and great work! October is fast approaching and with it come the traditional end-of-season business dinners and lunches. If you'd like to ensure a first-class celebration, you've come to the right place: Mambo Group has 6 different proposals for you to choose the one that best suits your business and your team. Book your lunch now and make a toast to great work!
Business dinners, one of the keys to a good relationship with your employees
In Ibiza, we are used to giving it our all during the peak season to provide the best customer service. Both business owners and employees work 100% and especially hard from May to October. This joint effort often brings the staff closer to each other, but it can also make it harder to build trusting relationships given the demands of the job. Business dinners at the end of the season can help with this as they allow you to:
Improve the relationship between employees as the gathering takes place in an atmosphere conducive to fun and relaxation, where they can share their summer anecdotes.
Team building.
Getting to know colleagues who you've had less contact with and establish a new complicity with them.
Even out the hierarchy between supervisors and employees and establish new trusting relationships.
Reward the team's hard work during the season.
6 restaurants in Ibiza to celebrate your 2019 end-of-season lunch
Do you have a large business and need to hire an entire restaurant for your event? Do you wish to celebrate the end of season in a place where you can have drinks after the meal? Or would you like your special event to also include a boat trip? No matter what type or size of business you have, we're confident that you will find the ideal restaurant for your end-of-season business lunch among the following suggestions: All restaurants have their own set menu for groups, which can be adjusted to your needs.
Casa Maca
Book on this link if... you're looking for a stylish celebration in the countryside with a view of the city of Ibiza. You can choose a fun evening with grilled food and music played by our DJs or a relaxed lengthy lunch with exquisite Mediterranean food and a swim in the pool.
Casa Maca. © Luanda Lopes

Hostal La Torre
Book on this link if... you're looking for a celebration with an amazing sea view and mouthwatering Mediterranean food with an exotic touch. You can enjoy a relaxed lunch on our terrace or dinner watching the sunset to the beat of our DJs.
Villa Mercedes
Book on this link if... you prefer an end-of-season business party with a unique atmosphere, delicious gourmet bites and a chill-out area to toast the summer successes and chat until late while you sip a cocktail.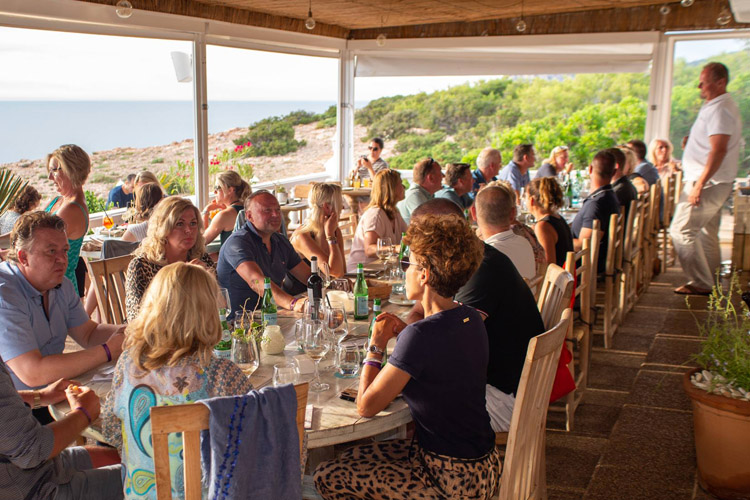 The terrace of Hostal La Torre is perfect for business lunches and dinners.
Cala Gracioneta
Book on this link if... you want to wave the summer goodbye from this cove. Our terrace offers beautiful spots for a long table and delicious Mediterranean food based on fish and rice dishes. And the icing on the cake: the cove itself to enjoy a refreshing swim after lunch. Or dinner...
La Cava Ibiza
Book on this link if... your team likes to share Spanish tapas with a modern vibe and you don't want the fun to end after dinner: located in Vara de Rey, this restaurant in Ibiza is perfect to keep the night going in the bars in La Marina. Also, thanks to our table layout, we can set up a table as long as you need.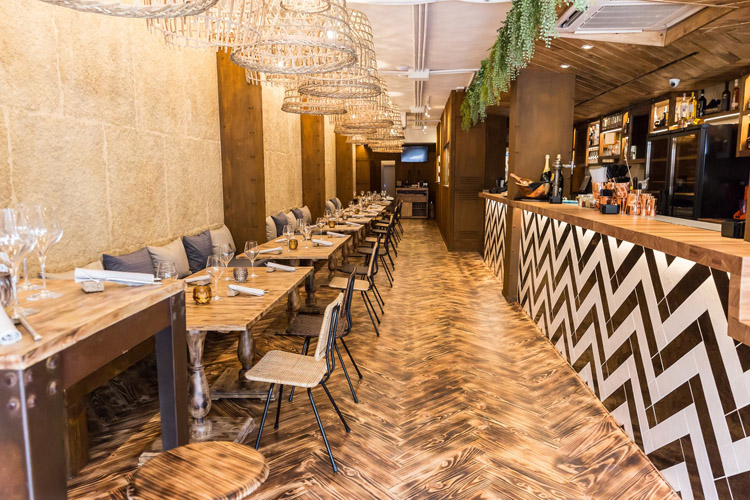 En La Cava Ibiza podemos acomodar fácilmente a tu grupo.
Las Mimosas
Book your table calling to +34 971 34 39 23 if... you're looking for an outdoor space to celebrate a special dinner that will include, for example, a welcome cocktail and live music. All this with delicious Italian specialities prepared by our restaurant Mimo, in our boutique hotel Las Mimosas..
Top-class end of season: What if you also enjoy Ibiza's sea?
Our most special proposal to celebrate your end-of-season lunch or dinner in Ibiza also includes a private 3h boat trip on our luxurious Mastercraft X55 speedboats. For this, we suggest the following packages designed together with Sunset Boats:
Boat+lunch option: day trip on a private boat plus lunch at Cala Gracioneta or Las Mimosas.
Boat+dinner option: afternoon trip on a private boat with a view of the sunset plus dinner at Hostal La Torre or Villa Mercedes.
**