10 mistakes to avoid if you're going to celebrate your wedding in Ibiza
If you're planning to organise your wedding in Ibiza, you need to avoid the usual mistakes made when preparing a ceremony and, especially, the mistakes made when you live abroad and your guests need to pack a case to celebrate your big day with you. If you want your wedding day to be magical and unforgettable, don't miss this post and keep track of everything you've got to do. And... Hooray for the happy couple!
5 things you should never say when you organise your wedding in Ibiza
- We're getting married in Ibiza in three months!
Ibiza may have less population than your hometown, but in the last few years it has become a very popular wedding destination, so you mustn't rest on your laurels. You'll need time to organise your wedding in Ibiza and book the place for the ceremony, whether you want it in a church or on a special spot by the sea, like Cala Gracioneta.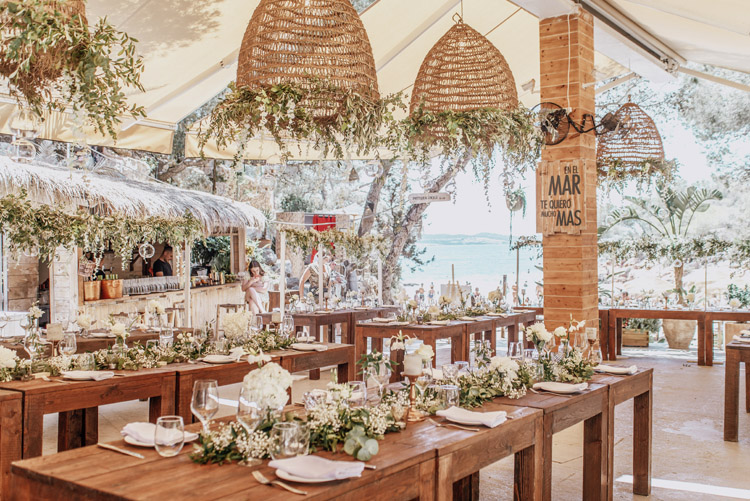 Cala Gracioneta is a romantic beach restaurant ideal to celebrate a wedding. © Luanda Lopes / Cala Gracioneta

- My mother thinks, yours says, I'd like, our friends did…
When you organise a wedding, the fewer pronouns you use, the better. Basically, you only need to use the first-person plural and listen to the suggestions of professional experts who know that the success of an unforgettable wedding does not only depend on organising it, but also on little details. For this reason, an event like this needs training, a deep knowledge of the sector and, above all, passion. And relying on a person like Lucy Dyer, who is the wedding planner of Mambo Weddings, will make it all simply perfect.
- A few flowers on the benches should be enough.
Decorating the place where the ceremony will take place is very important, both for you and your guests, who also wish to enjoy a special day. We believe it's best to leave this to the wedding planner and don't give into the temptation of letting a friend or a mother take care of placing the garlands, bows and flower arrangements here and there.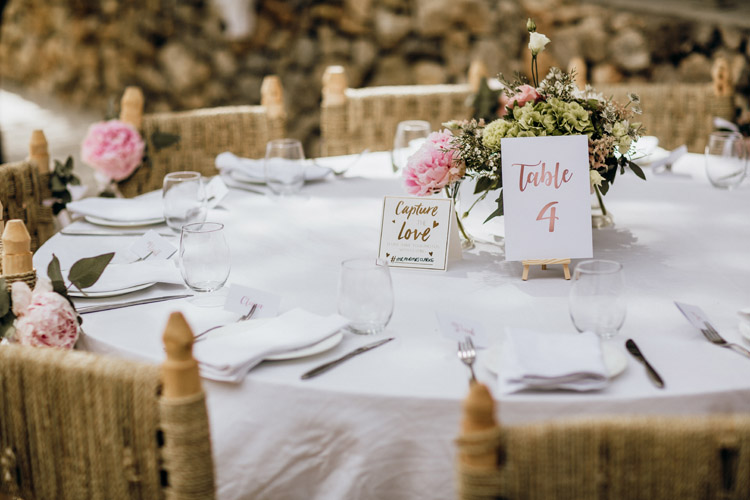 Small details are the ones that look the most: trust professional advice. © Matt Morgan

- What if we give guests a heart-shaped soap with our names?
It's natural that the happy couple wants their guests to remember the wedding forever. But you mustn't dump on them the responsibility of keeping in a bottom drawer cute soaps, liquor bottles, candles with your names engraved forever. If you still want to give something to the guests, choose a practical gift that they can enjoy without them fearing it will disappear if they use it, like a nice fan or a bottle opener.
- We don't like to pose. Our friends can send us their pics.
One of the most frequent mistakes made by the soon-to-be-wed couple is the photo session and how shy they feel when they think about it. However, we can tell you by experience that the couples who don't hire a professional photographer practically always regret it. Do you really want to miss such a special moment like when your best friend hugged you or your partner's look when he/she watched you walk down the aisle? The photo session can be great fun and you may not even notice depending on the photographer you hire. Let us give you our advice on this and don't miss the chance to have an album full of wonderful memories and once-in-a-lifetime moments.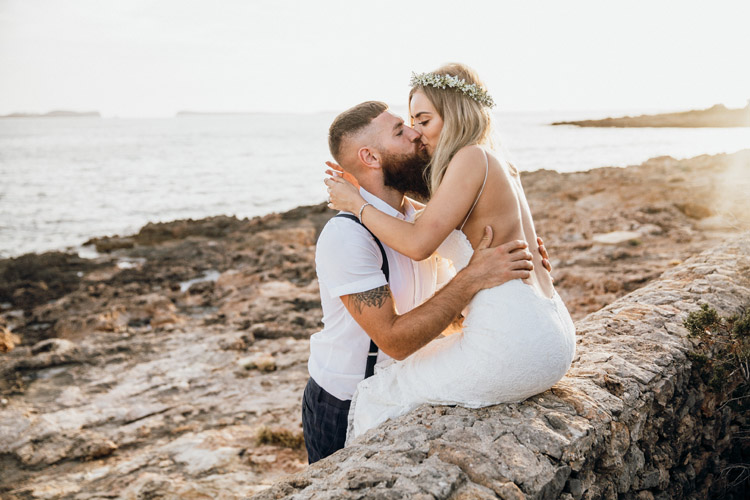 The best wedding photographers are those who capture the happiness of the moment, don't you think? © Matt Morgan

5 things that will doom your wedding to fail
- We hire a bus for the guests and they can take care of the rest.
If you'd like to get married on the White Island and you don't live there, you need to think how to make your guests' stay simple and pleasant during the wedding. This is a key detail when you organise your wedding in Ibiza. Arranging a bus to and from the wedding is not enough. You need to suggest nearby hotels that can be easily reached. For instance, if you celebrate your wedding in Cala Gracioneta or Villa Mercedes, you could suggest Hostal La Torre, Sa Clau by Mambo or even Las Mimosas. Likewise, it's convenient to organise other events for the stay, like a welcome dinner with a set price per person or water sports for those who arrive the day before the wedding.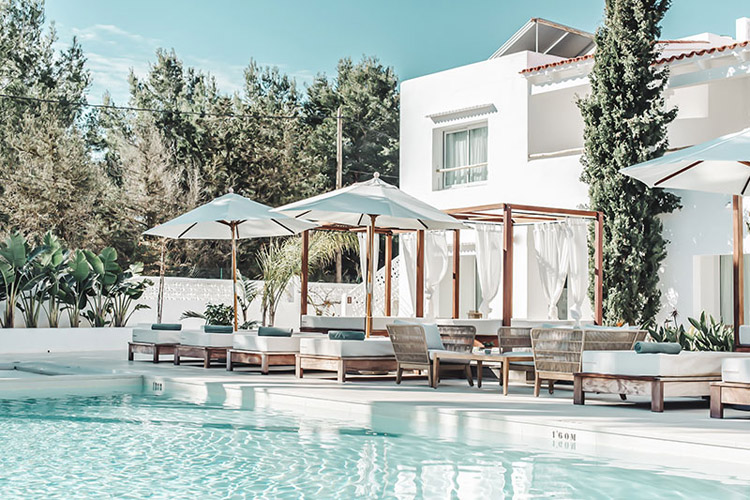 Prevent your guests from staying away from the venues. © Luanda Lopes / Las Mimosas
- We don't need a plan B in case it rains because it never does in Ibiza.
It's true that Ibiza has an average of 300 sunny days a year, but spring and autumn are usually unstable in the Mediterranean and could bring a sudden downpour or intermittent showers. In this case, don't take the risk and always have a plan B to make sure nothing will spoil your party. These details will be the key to a great day when you organise your wedding in Ibiza.
- The master of ceremonies?" My father-in-law is great fun.
If you choose a relative or a close friend or if you hire a professional, don't forget to go over their speeches to avoid terrible improvisations, unwanted comments or a string of unsavoury jokes... It's true that you should allow the people who love you to surprise you at your wedding, but as long as it's a happy surprise, don't you think?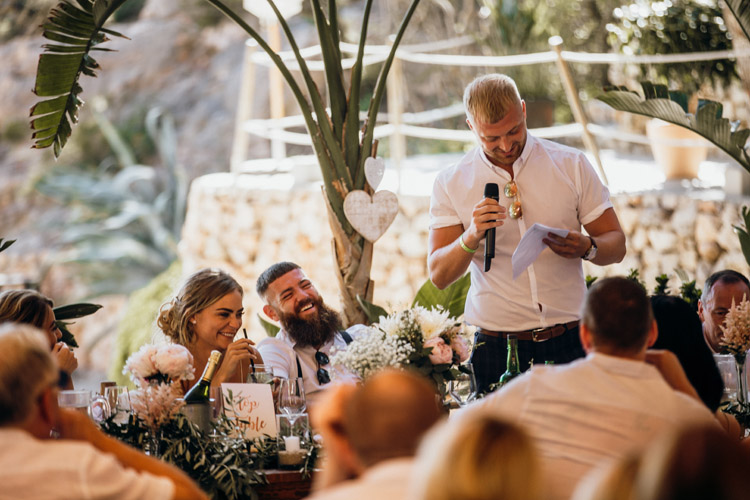 The speeches can be very fun and memorable, or quite the opposite. Don't leave it to chance! © Matt Morgan

- Shall we open a WhatsApp group for the guests for last-minute instructions?

By now we all know that WhatsApp groups can be pretty tricky. So best forget about giving instructions as you go along and simply send clear and precise instructions with the wedding invitation. This should include the dress code: if you want your guests to be dressed in white, tell them. And if you really don't want them in white, tell them too, or you might end up with an unwelcome surprise.
- Urgh... why don't we look at it all tomorrow?
Don't put it off until tomorrow, or the next day, or the next... Weeks rush by! If you don't know where to start to organise your wedding in Ibiza, get in touch with us straight away by email, This email address is being protected from spambots. You need JavaScript enabled to view it.or by phone, +34 971 803 383, and let us know what type of wedding you'd like. We'll help you visualise it, we'll give you an estimate with no obligation and we'll get started as soon as you say: Go ahead! And everything else will be like a fairy tale: "and they lived happily ever after"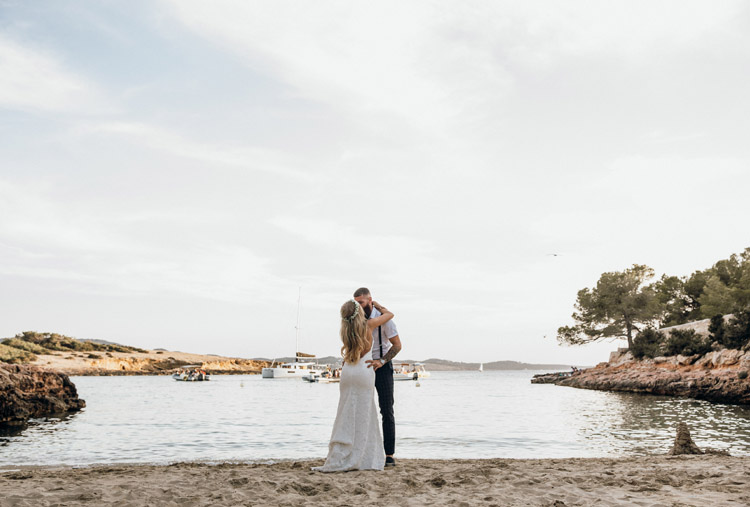 Start preparing your wedding in Ibiza today. And remember it forever .... © Matt Morgan