Plans, gifts and other ideas to experience Ibiza at Christmas
There is so much to do in Ibiza at Christmas, like visiting Father Christmas's hut, buying presents for the people you love, celebrating the New Year, browsing the Christmas markets... This post suggests plans and gifts for these special dates and other options for you to have fun at the most magical parties of the year.
What to do in Ibiza at christmas?
Don't stay in. Go out and live the island at Christmas. If you're planning a Mediterranean escape for these dates, read about the plans you can add to your festive holiday on the island.
browse the christmas markets in Ibiza
These dates you'll be able to visit the European-style Christmas markets with stalls selling gifts and food, mulled wine and Father Christmas's hut.
Christmas market at Casa Maca: on the weekends leading up to Christmas Eve, the garden of Casa Maca boutique hotel will be bursting with Christmas magic. From 1 p.m. until 6 p.m. you will find a selection of stalls offering gifts, tempting food proposals -like the traditional meat pies- a Christmas wreath workshop (21st December, €45), mulled wine and live Christmas carols. And don't forget the Father Christmas Corner, where the youngest can hand over their letters to Father Christmas. Entry to the market is free but a €5 donation is asked to enter the Father Christmas Corner as this will be given to the Ibiza Preservation Fund..
Chistmas market in San Antonio: this year, the Ses Fonts avenue in San Antonio will be hosting stalls with food and gifts that will be open from Wednesday to Sunday and include music performances, kids' activities and a Father Christmas Corner. And if you'd like to sip delicious mulled wine, come to Bondi Café and watch the Christmas spirit from our terrace.
Christmas market of Las Dalias: until 5th January, you can buy your Christmas presents at the hippy street market of Las Dalias that will be open from 5 p.m. to 9 p.m. (Monday to Friday), from 10 a.m. to 9 p.m. (Saturdays) and from 3 p.m. to 9 p.m. (Sundays).
Christmas market in Eivissa (Ibiza city): once again, the Plaza del Parque will be hosting the Christmas market with plenty of kids' activities and live shows.
Join different food events this Christmas
During these special dates, forget about cooking and taste Christmas with us. Discover the most Christmassy menus at Hostal La Torre and Casa Maca on Christmas Eve, Christmas Day, Boxing Day (San Esteban) and New Year's Eve. Book your table now if you don't want to miss out. And for the weekend of 28th and 29th December, come to eat Casa Maca's Sunday Roast.
Visit a Neapolitan nativity scene
The Espacio Micus art gallery has set up a nativity scene with handmade figures from Naples, which if this birthplace of this tradition. You can visit it every Sunday at 2 p.m.
join the most christmassy sunset
Our Balearic Sound sessions keep going during Christmas Come over to Hostal La Torre and listen to DJ Medusa Odyssey (19th December), DJ Phat Phil Cooper (20th, 26th and 31st December), Andy Wilson (21st and 28th December), Dj Andy Baxter (22nd December), Dj Mike Boorman (27th December) and Dj Alfredo (29th December) bring rhythm to the last sunsets of 2019.
Winter sunsets are even more spectacular than those of summer. © Jon Iceta / Facebook
Tap your foot at Malanga Café and Teatro Ibiza
Every Thursday night, the sounds of blues, jazz, funk and soul take over the stage at Malanga Café, in Vila. It's free entry and every week brings a new special guest. Another place to enjoy good live music these festive dates is Teatro Ibiza, that will be hosting Mucho Muchacho (20th December) among other artists. And if you like jazz, on 21st December, hop over to Sant Antoni and don't miss the great Pere Navarro at El Refugio (free entry).
End the year with a yoga session overlooking the sea
A fabulous plan to add to your Christmas holiday in Ibiza is the yoga session given by Kata, an instructor from Goddess Spirit, at Hostal La Torre next 26th December. The session will also include meditation, mantra chanting and relaxing sounds made with quartz crystal bowls.
Join the Christmas kids' plans in ibiza
Some of the recommended Christmas kids' activities in Ibiza are the "EnSueños" dance show (22nd December, Auditorio Cas Serres), the Christmas market at Casa Maca, the Father Christmas Workshop (21st December, Tierra de Ibiza ), the magic show performed by Mago Albert in Ibiza on 26th December, the Trompe-l'oeil Workshop (28th December, Tierra de Ibiza) or the amazing acrobatics show by Es Nadal és un Circ (30th December, Recinto ferial de Ibiza).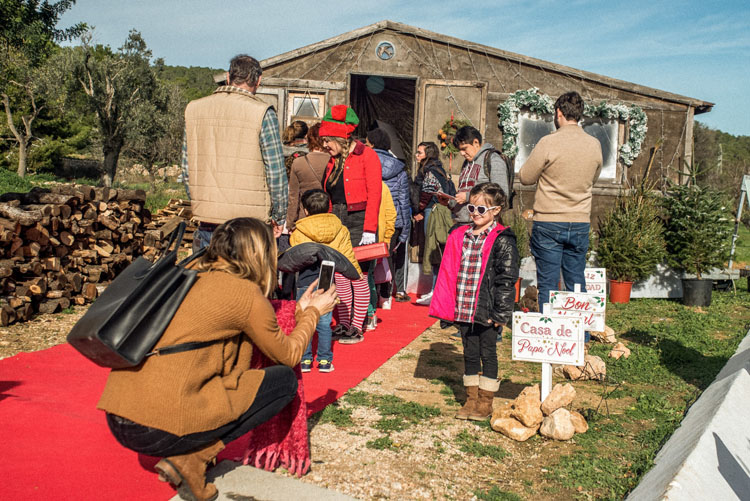 Do you have a letter to Santa Claus to deliver? Come to Casa Maca. © Luanda Lopes / CM
Christmas gifts from Ibiza
If you'd like to give someone a piece of Ibiza, here's how to do it. It's as simple as choosing a gift from our list:
- A holiday voucher for Ibiza
If you'd like to really surprise someone, choose our gift vouchers and treat them to an unforgettable holiday at our boutique hotels in Ibiza. Vouchers don't expire and you can set the value of the voucher depending on your budget. And if you book now, you can get a special rate for stays between 1 May and 31st October 2020. Book before 31st December to enjoy this fantastic offer! If you already know who you want to treat to this wonderful gift, contact us and we'll give you all the details.
- A voucher for a special lunch or dinner
Contact us if you'd like to give someone a lunch or dinner voucher for Mambo Café, Villa Mercedes, Hostal La Torre, La Cava Ibiza and Casa Maca. You choose the value and they will relish it.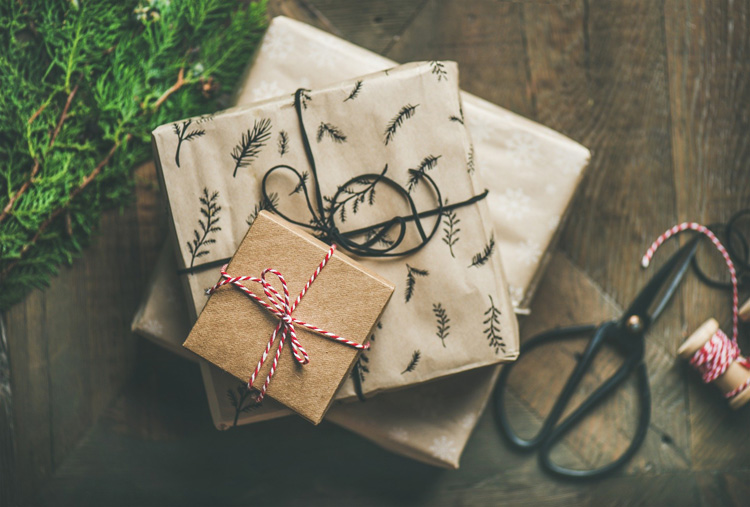 Surprise with a gift made in Ibiza. © Yvette Fang / Pixabay
- A 100% Made in Ibiza luxury creation
If you're looking for a truly special gift that will last forever, choose something from the pieces of gold/silver jewellery designed and created by Nino d'Agata, Elisa Pomar, Enric Majoral or Natasha Collis; the paintings by Julia Ribas; the Adlib dresses by Charo Ruiz; or the sculptures by Pedro Hormigo.
- Assortment of Ibizan products
For foodies, you can prepare your own hamper with Ibizan products like cheese, jams, honey, hierbas ibicencas liqueur, olive oil, sobrasada, wine, salt and sweet pastries. You can find a broad assortment in the new shop of Cooperativa Agrícola de Sant Antoni.
Main picture: © Luanda Lopes / Casa Maca
**