This Christmas, come to Hostal La Torre!
Hostal La Torre loves the Christmas holidays, so once again we've prepared a special menu for New Year's Eve. See 2021 out with fantastic vibes and delicious bites. But book quickly, there are only a few tables left! Come visit us these holidays and spend Christmas by the sea!
join us in raising a glass to christmas

If you live in Ibiza, you'll know that Hostal La Torre is open all winter from 8 a.m. till midnight (food served until 11 p.m.) for you to enjoy our wonderful sea view and the most fabulous sunset in Ibiza 365 days a year. And, of course, we are also open during Christmas for you to come with your friends and family to toast the festivities and share great moments together. If you're planning to have a special lunch or dinner with your friends or family this Christmas, remember that our restaurant will be open on December 24th, 25th, 26th and 31st and on January 1st.
Dinner on New Year's Eve 2021 at Hostal La Torre

See 2022 in with a mouth-watering dinner and a lively party from one of the most extraordinary places in Ibiza: Hostal La Torre. For dinner this New Year's Eve, we will be serving a special, delicious menu that includes an appetizer, the starter and main course you choose, dessert, lucky grapes and Christmas sweet treats. There will also be vegetarian and gluten-free options for clients who prefer this (please let us know in advance). Don't miss out, book a table now!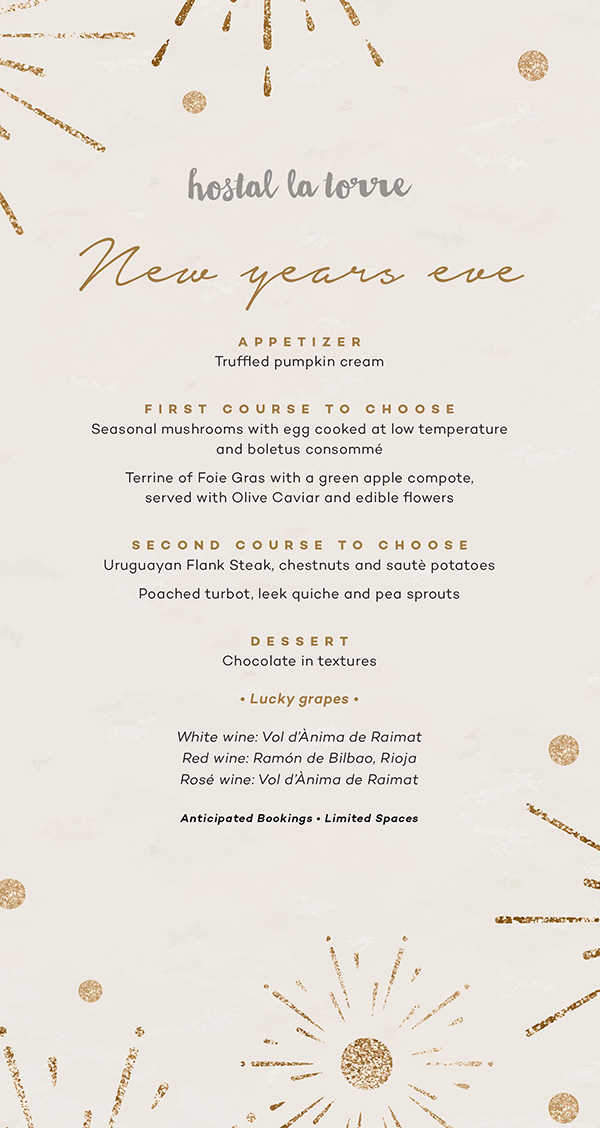 More ideas for Christmas in Ibiza

Besides coming to Hostal La Torre for dinner or lunch, or enjoying the sunset in the best Christmas atmosphere, there are other things you can do in Ibiza these holidays:
Get snacks from the Christmas stands in Sant Antoni while listening to live music.
Join the popular race called Pujada a la Catedral on December 31st.
Visit the Supermercat de l'Art in Garden Art Gallery Ibiza and find a unique and creative gift.
Visit the nativity scene set up by the Town Council of Sant Antoni de Portmany. They change the scene and arrangement every year. Don't miss it!
The first dip in the sea of the year has become a tradition amongst brave swimmers who aren't afraid of the cold and gather in Ses Salines on January 1st every year.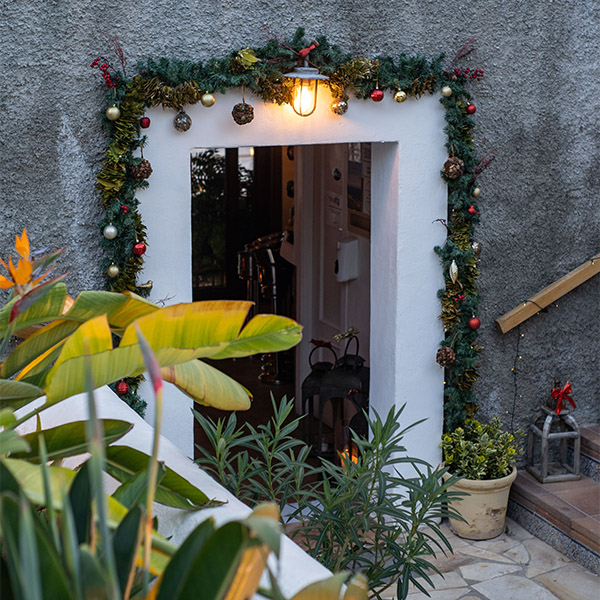 Main picture: Angel Camarena © Grupo Mambo