The best beaches in Ibiza for a reel
We know how Instagram loves a good reel, so if you want your holidays on the White Island to get tons of likes, don't miss our list of the best beaches in Ibiza for a successful reel (without having to dance).
The most fun and suggestive island in the Mediterranean Sea has over 500 beaches to flaunt your poses, creativity or sense of humour, depending on your style. And, of course, don't forget all the beautiful spots on the coast that complement the coves and beaches chosen for this post. From north to south and east to west, you'll have plenty of chances to show off your holidays. Best of all, some of our suggestions are only a few minutes' drive from Hostal La Torre.
The most "reelable" beaches in Ibiza
Cala Conta
Spend all day on this cluster of small coves, as the stunning colours of the water change depending on the time of day. You will find several spots for a perfect shot: the pier by Ses Roques restaurant, the terrace of Sunset Ashram restaurant (you can tell by its name the best time to sit at one of their tables), the steps leading down to Cala Escondida and, generally, the entire coastline that joins the small coves.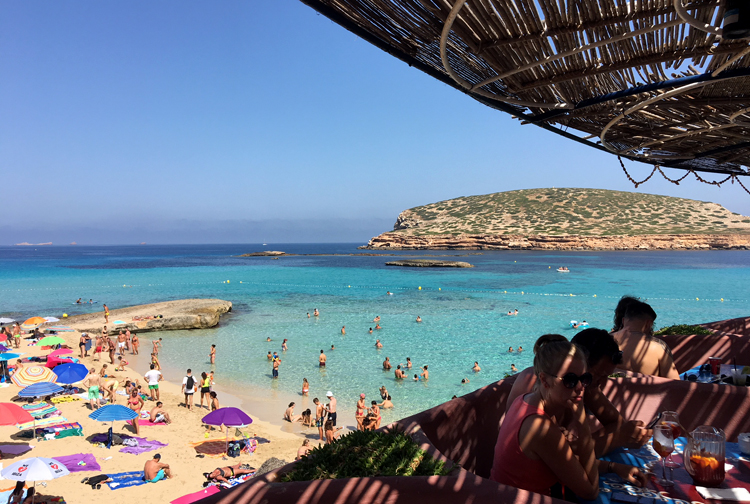 Cala Conta. © NC/Hostal La Torre Ibiza
Cala Saladeta
Next to Cala Salada, you can reach this cove by a path that starts from a singular red ochre house. It's on this very path where you'll find the best spot to capture the spectacular crystal-clear waters of Cala Saladeta and the quaint boathouses in Cala Salada. As this cove has limited parking space, access is controlled from 10 a.m. to 6 p.m., so it's best to come by bus (L34), taxi or boat (leaving from San Antonio harbour). Whatever means of transport you choose to get there, this picturesque spot in Ibiza is only 5 kilometres away from Hostal La Torre.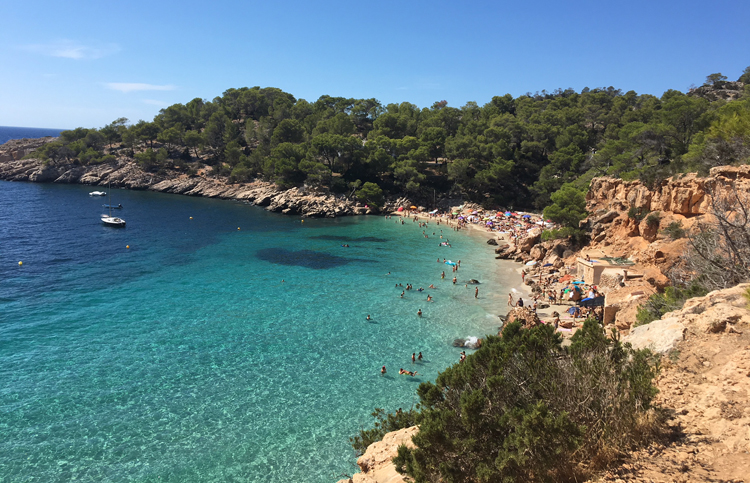 Cala Saladeta. © NC / Hostal La Torre
Cala d´Hort
With its fishing huts and fabulous views over Es Vedrá islet, this is an absolute must on any route for instagrammers in Ibiza. If you're looking for a shot of paella or grilled fish with the islet in the background, book a table at El Carmen restaurant. In the summer, it's best to park your car in the car park that leads on to path down to the beach. Remember, if you're going for a swim, check that there are no jellyfish or your video might be pretty funny (this beach is quite popular among this electrifying species).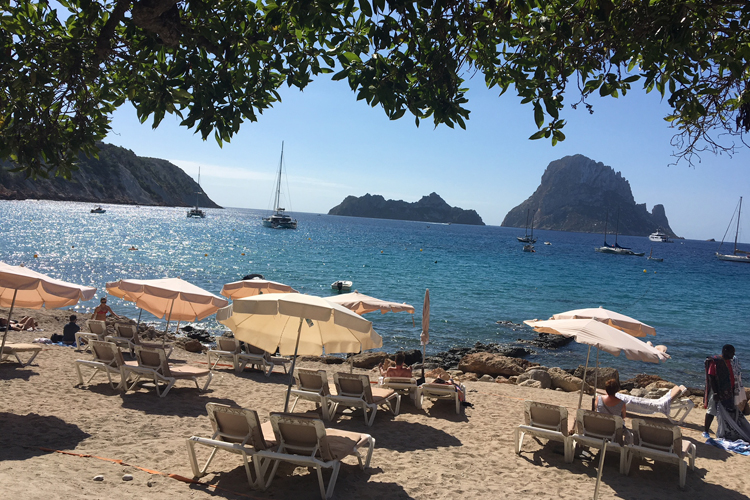 Cala d´Hort. © NC / La Torre Ibiza
Punta Galera
We encourage you to walk from Hostal La Torre to this unique fishing spot on Ibiza's coast and shoot a reel of you swimming in the emerald waters of Punta Galera. This used to be a quarry and you can film or take pics of the sunset over Conillera island from its stone terraces. If you'd like to spend the morning or afternoon there, don't forget to take water, food, sunscreen, a hat and a pair of sunglasses.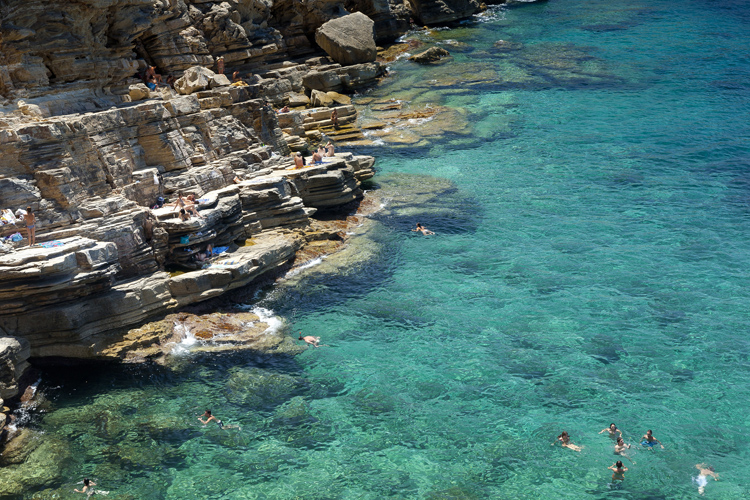 Punta Galera. © visit.santantoni.net
Cala Benirrás
At the end of a 40 minute drive from our boutique hotel in San Antonio, you'll find another amazing cove for a reel in Ibiza. The best angle is from the fishing huts on the right or at the top of the path that goes up from the left end of the beach. In July, August and September, it's also a great place to film the sunset and if you're lucky, you might get to listen to a group of percussionists playing the djembe and other types of drums.
Cala Benirras. © NC / La Torre
Ses Salines
If you'd like to shoot a reel on a beach with a fantastic youthful vibe and crystal-clear waters, Ses Salines is the place. If you're planning to brag about a heavenly swim, make sure the wind isn't coming from the east and film before the sun starts to set. But if you want to brag about the fun atmosphere, go to Sa Trinxa beach bar after 6 p.m.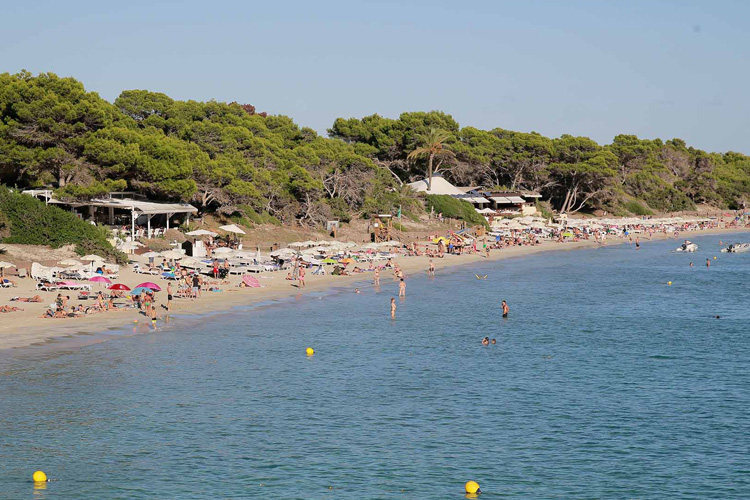 Ses Salines © illesbalears.com
Playa des Figueral
The east coast of Ibiza also boasts beaches and coves that deserve a place in your reels, like this beach with a view of Tagomago and Punta Grossa. Here you can also film a reel doing paddle surf or kayaking along the coast thanks to the water sports organised by Kayak Ibiza on Des Figueral beach.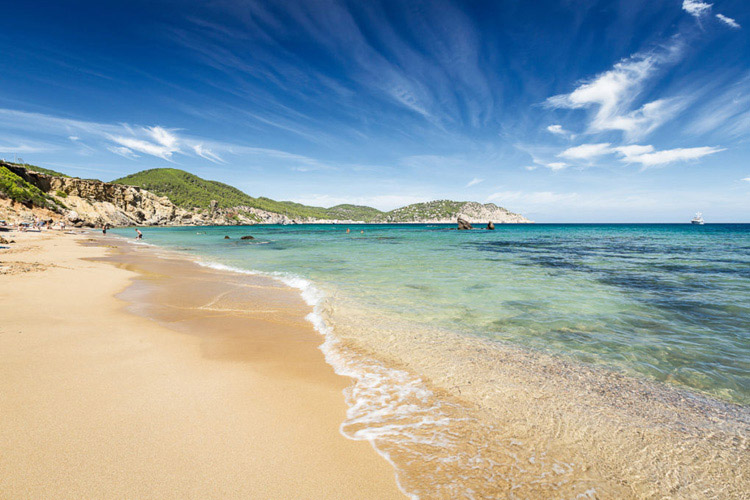 Es Figueral. © Visitsantaeulalia.com
Other spots in Ibiza that should star in your reels

The Posidonia Spa
You'll love the hydrotherapy circuit at the hotel spa Hacienda Na Xamena so much that you'll want to finish shooting the reel fast to make the most of this experience. If you book the session towards the end of the day, you'll also get the chance to show off the sunset.
Dalt Vila: its walls and narrow streets
The old part of the city of Ibiza is full of perfect spots to shoot loads of reels and stories. Spend time at the Portal de Ses Taules gate, the restaurants on Vila square, the views from Santa Llucía bastion, the magnificent houses on Calle Major, the Cathedral square and the old walls that join this spot with Portal Nou and Sol square.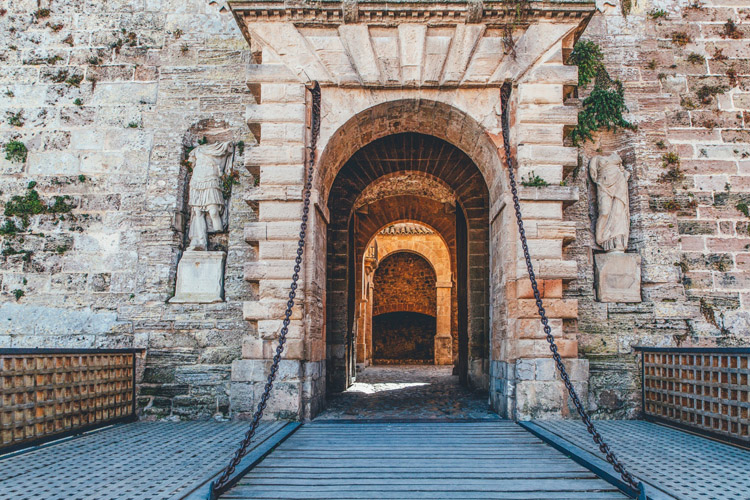 Port de Ses Taules, Dalt Vila. © Grupo Mambo
The Time & Space sculpture
Near Cala Codolar, you'll find this unique set of sculptures called Time and Space, and you're bound to want it to feature in your reel (with or without a dance). Made up of thirteen basalt columns, this work of art was created by the Australian artist Andrew Rogers at the request of Guy Laliberté, founder of the Cirque du Soleil. Only a few meters away stand two doors facing each other and framing the outline of the Es Vedrà islet.
Café Mambo
When the sun starts to set, it's time to visit this famous café on San Antonio promenade to capture one of the most popular sunsets in the Med. The sunset can be accompanied by cocktails, food and, of course, pre-parties livened up by the best-known DJs in Ibiza.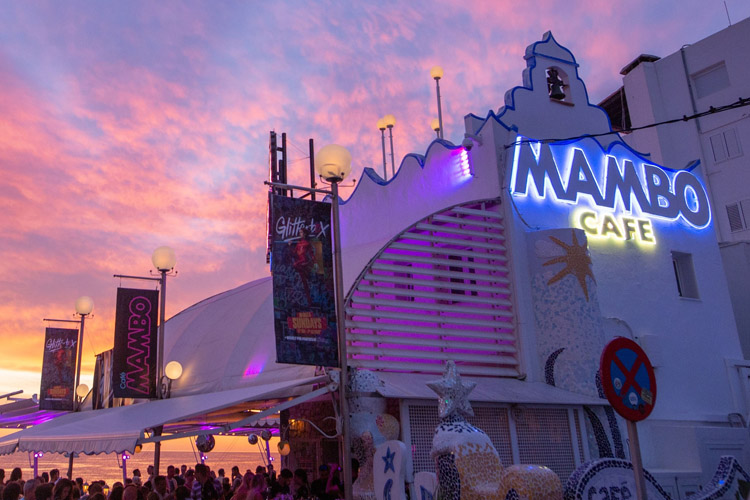 Cafe Mambo Ibiza © Grupo Mambo
Hostal La Torre, the best inspiration for your reels
Stay in one of our rooms or suites and enjoy a wonderful stay with high doses of relaxation, breakfasts overlooking the sea and the islets of Sa Conillera and s'ill des Bosc, spectacular sunsets at the beat of the best Balearic Sound music, delicious Med food, original and refreshing cocktails, and countless details that will make your reels, posts and histories look amazing. Book today a room or suite in our boutique hotel in Ibiza by the sea and fill your Instagram with the magic of Hostal La Torre.