Perfect Match by the Sea Menu: celebrate summer with Perrier-Joüet
The summer and holidays fly by, so we like to prepare experiences to help you make the most of Ibiza and its evenings. One of those experiences is our Perfect Match by the Sea Menu were we pair the know-how of the prestigious French champagne Perrier-Joüet with the essence of Hostal La Torre: Mediterranean joy, delicious food and an extraordinary setting in a quiet spot on the coast of San Antonio, with a view of the sea, the sunset, cape Nonó and the islets of Sa Conillera and s'Illa des Bosc.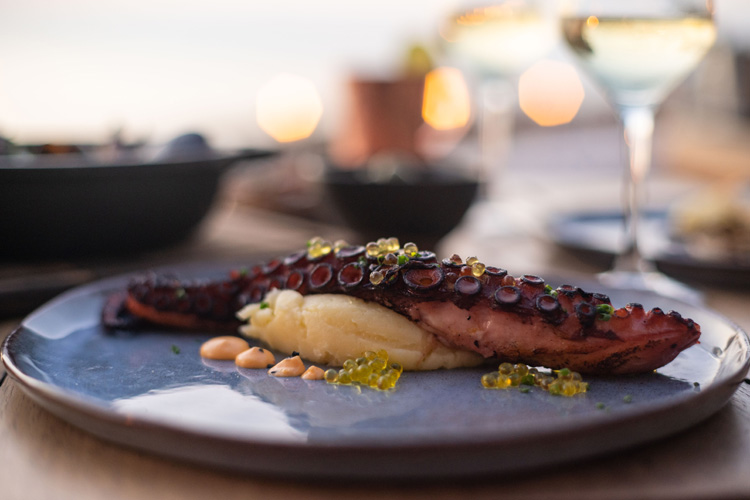 A food experience for fans of the exceptional

Any summer day is great to enjoy amazing Balearic Sound sessions, the cosmopolitan vibe of Hostal La Torre and our exclusive experience of dinner paired with Perrier-Joüet. The perfect plan to have fun with your partner or friends while you make a toast with champagne and relish mouth-watering food. Our pairing menu has been designed for six persons max per table and includes wonderful dishes that were specially chosen to pair with a bottle of French champagne, Perrier-Joüet Grand Brut: hors d'oeuvre, two starters, main course (of your choice) and dessert.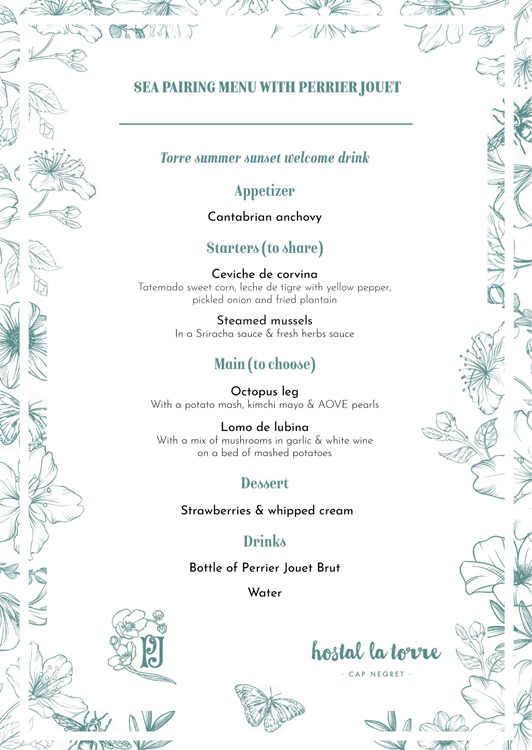 book your Exclusive dinner with champagne in Ibiza
If you already know who you're coming with, book your pairing menu right now on our website by clicking "Perrier-Joüet Experience", or by WhatsApp (+34 690 25 62 91) or phone (+34 971 342 271). Book today and make the most of Hostal La Torre, a special place in Ibiza that will be engraved on your memory forever. If you wish, you can combine this experience with a stay at our boutique hotel in San Antonio, a Mediterranean haven with only 16 rooms decorated with natural materials in pure Ibizan style.