The route of coves and beaches on Ibiza's west coast
Exploring the route of coves and beaches on Ibiza's west coast is one of the best plans for your holidays at our boutique hotel in San Antonio, as this route it's very close to Hostal La Torre and it includes some of the most beautiful and best known beaches on the island.
We already took you to see the beaches in the south of Ibiza, and of them on this route too, at the southern end: Cala d´Hort. If you already know it, we're sure you won't mind seeing it again, right? The rest of the itinerary will take you to some very popular beaches but also to other quieter beaches you'll like to explore when you want to get away from the crowds. It's best not to visit them all in one day (you'll manage to see them, but won't have time to enjoy them). Instead, spend a day exploring the ones from Cala d´Hort to Platges de Comte and another to go from Cala Bassa to Cala Saladeta.
Coves and beaches on Ibiza's western coast: from Cala d´Hort to Platges de Comte
We advise you to go against the current in the summer and start the day in Cala d´Hort instead of ending it there. Then you'll get to enjoy the view of Es Vedrà without the evening crowds and leave that moment to the end of this first stretch of beaches on Ibiza's western coast.

Cala d´Hort
This is one of the most visited beaches in Ibiza because of its views of Es Vedrà. With crystal-clear waters and quaint seaside spots, there's only two snags: it's also quite popular with jellyfish and half of the cove has no sand.
Cala Carbó
This cove is no more than 50 metres wide, but the landscape is charming and it has a traditional restaurant serving Ibizan food. Both in and out of the water, there's a mix of sand and pebbles. The parking lot is small, so it's best to skip this one in July and August.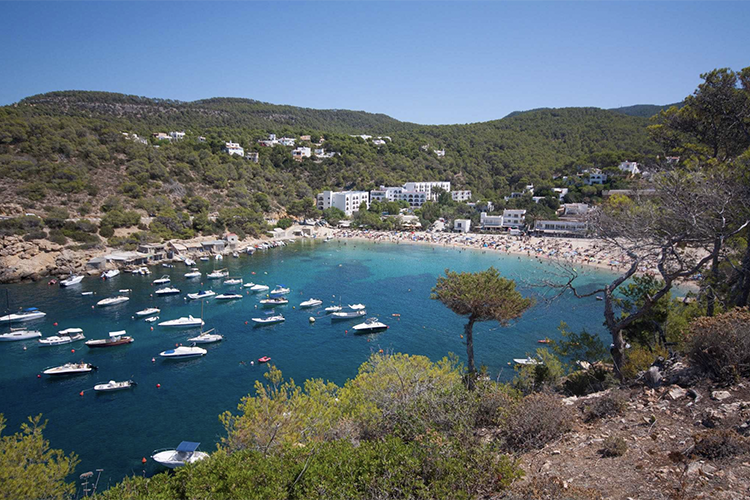 Cala Vedella. © santjosep.net
Cala Vedella
It's lost part of its charm in the past years because of the new houses built there, but it's still one of the most beautiful ones on Ibiza's western coast. With many restaurants on the edge of the beach, it's a good option for lunch.
Cala Molí
Pebbles and rocks cover most of its access to the sea, which means that the crowds keep away from this beautiful cove. But if you take water shoes, you won't mind at all and will love it.

Cala Tarida
It's the longest beach on the western coast. It's 900 metres long and is divided into two stretches. It's family-friendly and is usually quite crowded mid-summer.

Cala Codolar
This small cove with pebbles on the seabed can be a good option for a nap after lunch, as it's pretty quiet. If you're pressed for time, leave it for another day and go straight to the last stop on this route: Platges de Comte.

Platges de Comte
The first part of our route of coves and beaches on Ibiza's western coast ends with one of the most famous and visited shores on the island. Swim in its crystal-clear waters and find a lovely spot to watch the sunset with Conillera island and the Ponent islets in the background.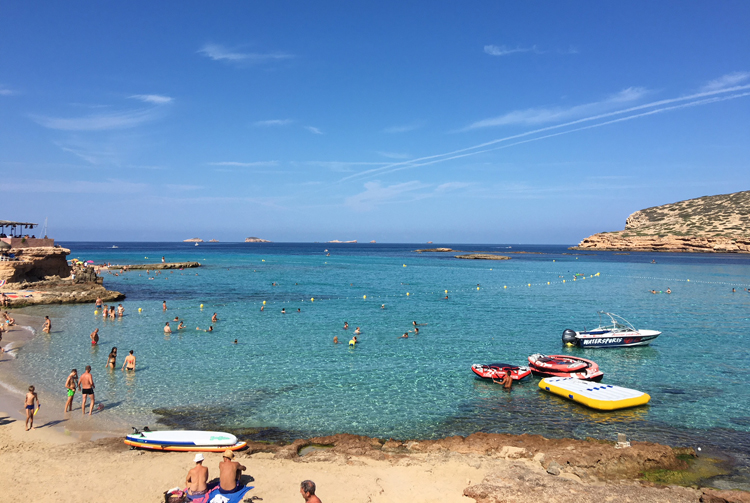 Platges de Comte. © NC
Coves and beaches on Ibiza's western coast: from Cala Bassa to Cala Saladeta
This stretch is shorter, but equally appealing because practically all its beaches are a must-see for your holidays in Ibiza. You'll find it hard to choose where to stay longer! Our advice? stick to one in the morning and another in the afternoon and then go for a quick dip in the other beaches and go back for more another day.

Cala Bassa
It's one of the most famous coves in Ibiza because of its stunning landscape and crystal-clear waters. It's like a swimming pool! You're bound to want to stay there for a while, unless you hate crowds. If you don't like having to sit next to other people, just take a selfie and head on to the next stop.

Port des Torrent
Its calm waters have made it a favourite among families living in San Antonio. It has a pleasant atmosphere, you can take a stroll along the coast, it has several beach bars and you can park easily.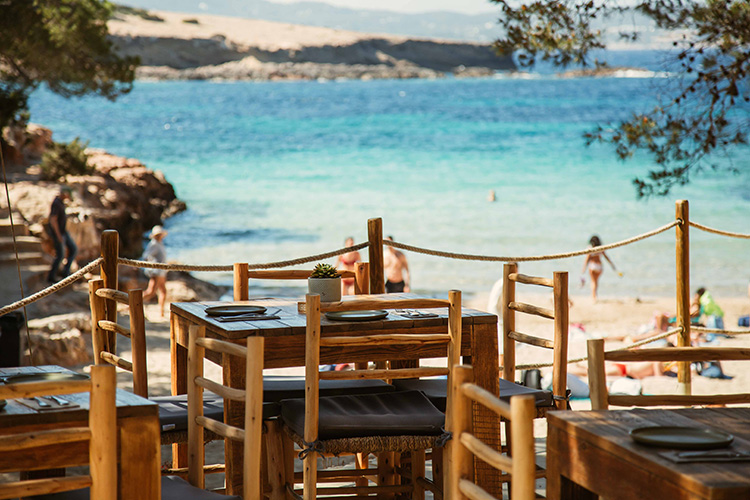 Enjoy mediterraean food by the sea at Cala Gracioneta.
Cala Gració y Cala Gracioneta
We've skipped the town coves and beaches in San Antonio bay to go straight to another charming beach on Ibiza's western coast: these two small adjoining coves are surrounded by pine forests and boast a view of Conillera island. You will love them! If you think you'll get there at lunchtime, book a table at Cala Gracioneta, a quaint beach restaurant on the cove that goes by the same name.

Punta Galera
The terraces of the old quarry have become a favourite among swimmers who are looking for unique spots. It's not an actual cove or beach, so don't expect any sand, but it does have crystal-clear waters and a very special atmosphere.

Cala Salada y Cala Saladeta
We've left these two stunning connected coves till last because we want you to get back to Hostal La Torre on time to watch the sunset (we're only 5km away) and because you can only visit it until 10a.m. or after 6p.m. if you're driving. In between, you can only access it by bus from San Antonio or Can Coix (you can leave the car there). You can however go there whenever you want if you're on a motorbike.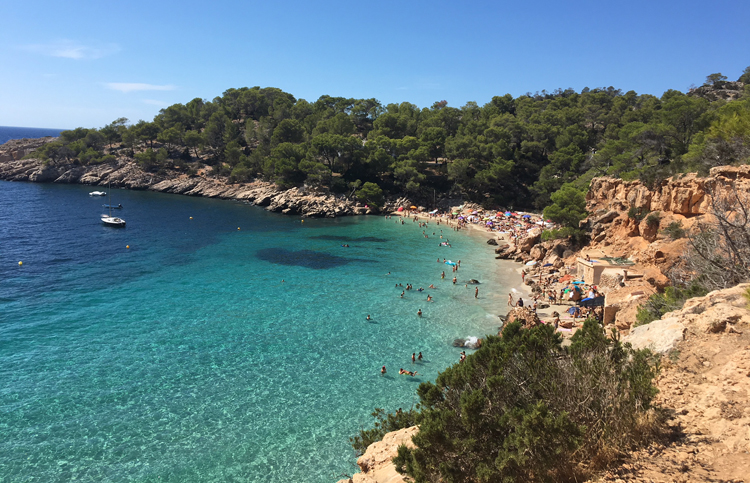 Cala Saladeta. © NC