(Practically) Secrets spots in San Antonio
You might be surprised, but beyond the hustle and bustle of the harbour and the town centre, San Antonio still has many (practically) secret spots that will allow you to discover another pace, other postcard-like scenes and other pleasant wonders to add to your holidays in Ibiza.
Luxuriant woods, hidden valleys, quiet sunsets and old country houses will appear before you if you stray away from the most popular routes. This is something you can enjoy all 365 days, like our boutique hotel in San Antonio, open for you from January to December.
secret spots in San Antonio

Don't worry about the word getting out. These spots are quiet and beautiful but will hardly become an instagrammer target for two reasons: you have to walk to get there and they are not as photogenic as other spots in Ibiza. So make the most of these secret places in the surrounding area of San Antonio.
Es Broll: a valley with Arab legacy

This narrow valley is hidden in the Buscastell area, about 8 kilometres from the village. If you like hiking or cycling, this is bound to become one of your favourite spots in San Antonio, especially if you're visiting in spring. The Es Broll landscape is formed by farmland, with cultivated terraces, a legacy of times when this land was inhabited by the Arabs, who built channels and tanks to provide constant irrigation to the plots. The torrent flowing through the valley comes from one of the most important aquifers on the island.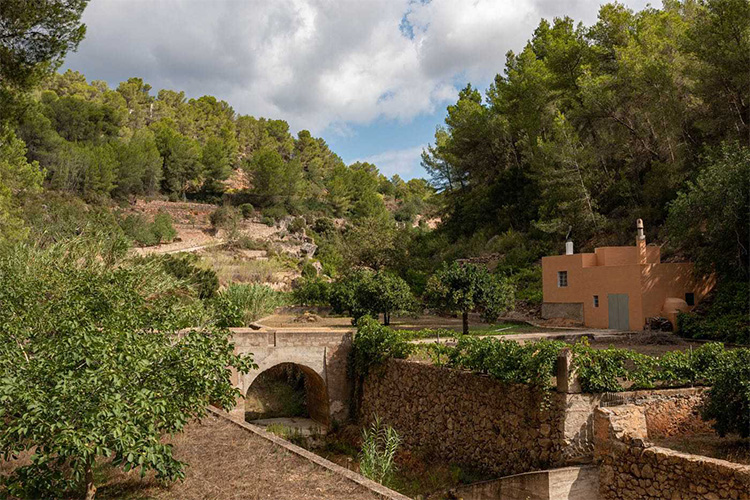 Es Broll. © visit.santantoni.net
Cala d'Aubarca: an outing with a swim

This quaint spot on the northern coast of the municipality is not completely unknown, but it's quite a feat to get there, which means that not that many people will go that far. Whether you want to take a pic on its unique stone bridge or go all the way down to the sea, you'll need sports shoes and water, because it takes at least half an hour to get down and a bit more to walk back up. In the summer, avoid the hottest hours if you don't want to suffer more than necessary on your way back up.
Capella de Sa Talaia de Sant Antoni: a bird's-eye view of the bay

En at the top of Sa Talaia of Sant Antoni, the mountain rising at the north of the village, is a small, modest chapel that was built in 1943. The climb to the peak is not to admire the chapel but rather to enjoy the spectacular views of the village, the San Antonio bay, the Conillera and s'illa des Bosc islets and the fields spreading northwards, as well as the sunrise or sunset. The track is not marked and it's not easy, but it's worth the effort of climbing up to one of the (practically) secret spots in San Antonio.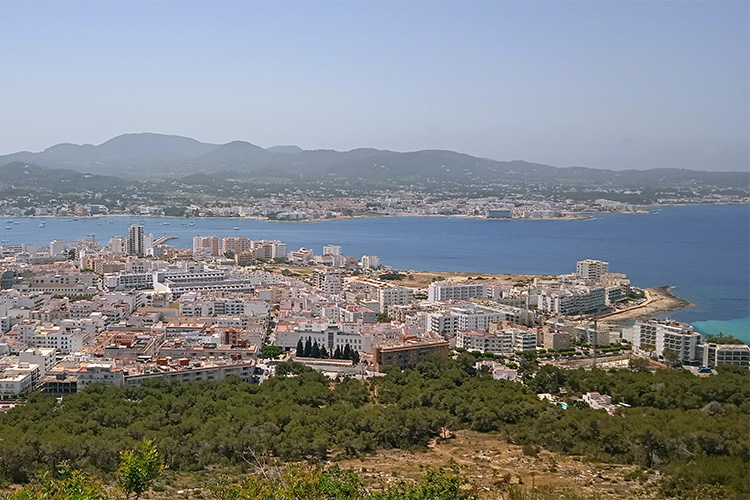 View from Sa Talaia. © NC / La Torre Ibiza
Sa Punta des Molí: the Ibiza of Walter Benjamin

This isn't a secret as such, as everyone can see this space, but only a few actually visit it. Between the beaches of s'Arenal and Es Pouet, this cultural space includes a restored flour mill, a whaterwheel, a simple house where the philosopher and essayist Walter Benjamin lived for a few months and a trull or oil press. If it's open when you walk down the path, go in and explore the plants that grow in this Mediterranean garden.
Cova de Ses Fontanelles: an excuse to wander through the woods

This rocky shelter also goes by the name of Sa Cova de Vi and has the only cave paintings in Ibiza. These discrete monochrome paintings are drawn in black and are believed to date back to the Punic era. The way to Cova de Ses Fontanelles is a good excuse to enjoy stunning views of the coast and a pleasant walk through one of the quietest and farthest parts of San Antonio.
Hosta La Torre, it may not be a secret, but it's just as special

When you get back from your outings through the less known places in San Antonio, our boutique hotel in Ibiza with its spectacular views of the sea and the sunset will be waiting for you with all its magic and charm. It's not us who says so, it's our customers who come back to our terrace every summer to end the day having dinner with the best Balearic Sound music or those who choose our rooms to spend their holidays in Ibiza. Any time of the year. Because the sunset visits us every day of the year and we don't want to miss a single one. We look forward to seeing you!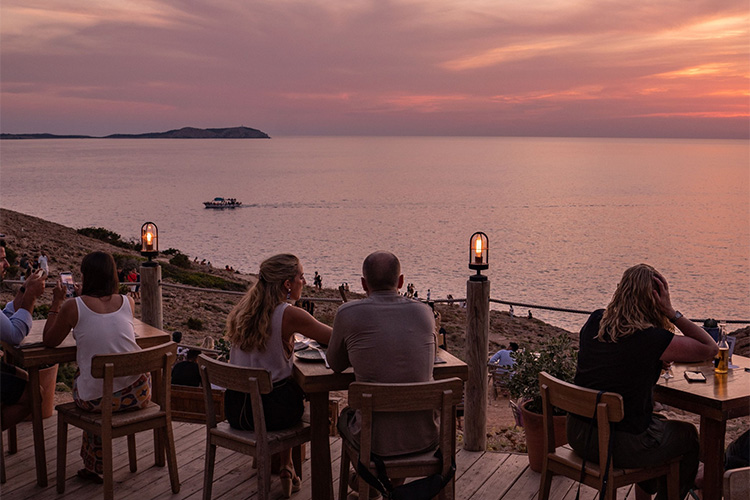 Hostal La Torre at sunset. © Grupo Mambo
Main picture: © NC / HLT